The X Factor Season 2 Predictions: Who Makes The X Factor Season 2 Top 8?
|
November 22, 2012 at 1:00 PM EDT
It may be Thanksgiving, but The X Factor Season 2 thinks that you still care about their acts enough to tune in tonight for The X Factor USA Season 2 results show. The Top 10 took the stage last night and the votes are tallied and it is time to find out who made the Top 8 on The X Factor 2012. Yes, that means another double elimination tonight! The judges (Simon Cowell, Britney Spears, Demi Lovato and L.A. Reid) all think their acts are safe, but here are my The X Factor predictions on who was eliminated on The X Factor USA Season 2.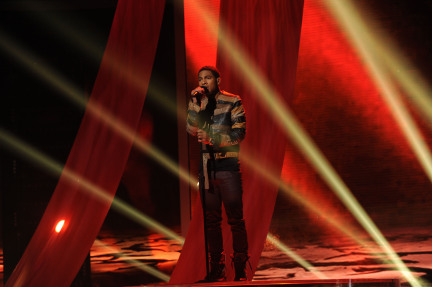 With another double elimination tonight, I am pretty confident on who I think will be heading home, but you never know how America will vote. The X Factor 2012 has Mario Lopez and Khloe Kardashian announce the rankings each week, which does help us know where things stand, but it also makes it very awkward for all the singers on the stage. Who really wants to know that they sucked and no one voted for them?

That seems to be the case for Arin Ray. He has been in the bottom every week, but not the very bottom and has survived. I don't think that will be the case this week. I think he had a subpar performance and it was not enough to win over any votes, so America will send him home!
Now for the two singers that will sing for survival on The X Factor USA 2012, I think it will be a battle between Paige Thomas and Fifth Harmony. The girl group did well in the rankings two weeks ago, but slipped last week and I think they were not good last night and they will slip again. Paige was in the bottom last week, but the judges saved her. I think her performance was good last night, but the judges hated it. I think she will end up in the bottom singing for survival and the judges won't give her another chance and will save Fifth Harmony, so Paige heads home with Arin.
What are you The X Factor Season 2 Top 8 predictions?
Join us on RealityRewind.com for all your The X Factor Season 2 news, recaps, previews and predictions. Subscribe to our Email and RSS or like us on Facebook and follow us on Twitter for all our latest updates.
SHARE YOUR THOUGHTS! LEAVE A COMMENT NOW:
Commenting Rules:
Keep the conversation civil and on topic. If your comment does not add to the conversation or is insulting to others, it will be removed. Debate intelligently. No ALL-CAPS.