The X Factor Season 2 Predictions: Who Makes The X Factor Season 2 Top 6?
|
November 29, 2012 at 1:00 PM EDT
The Top 8 on The X Factor Season 2 took the stage last night and it seemed The X Factor judges (Britney Spears, Simon Cowell, Demi Lovato and L.A. Reid) stole the show. Sometimes their banter is fun to watch, but it seems they love their acts, but then have to cut down the other acts just to see them lose votes on The X Factor 2012. I don't know why, but I was very annoyed at points in the show last night. Now it is time for me to make my The X Factor Season 2 predictions and find out who was eliminated on The X Factor USA.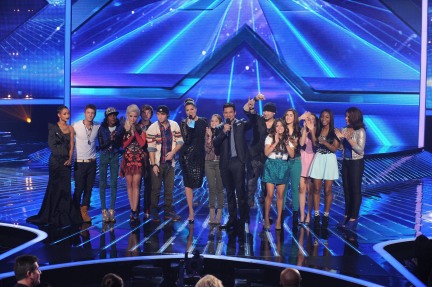 There were some good performances last night on The X Factor Season 2: Carly Rose Sonenclar was amazing and sang an Adele song like a champ, even though she is only 13 years old. Speaking of 13 year olds, Diamond White took on Whitney Houston and sounded excellent. Tate Stevens showed a fun side and still put on a stellar performance. For the first time this season, I actually was a fan of Fifth Harmony. They did a more upbeat song and I think they sounded great together as a group…finally. CeCe Frey's performance was over-the-top and crazy, but I loved it. She seemed to gain her confidence back somewhat and I enjoyed her.

For the rest, Paige Thomas was alright. She was all over the place during her performance and I did not like the arrangement of the song. It was slow then fast then slow and I was not a fan, even though at times I wanted to be. Vino Alan completely lost it this week. He has been holding strong at the number three spot in the rankings, so I think he will be fine and not go home, but his performance was blah and boring. I am sick of Emblem3. Simon Cowell wants them to be the next One Direction, even though the guys started out saying they didn't want to me a boy band and weren't a boy band, but they are changing their tune now.
For my The X Factor predictions, another two singers will go home tonight. As much as I enjoyed the performance, I think we will finally say goodbye to CeCe Frey. She has been in the bottom way too much and this time she won't get to sing for survival. That will leave it between Paige Thomas and Fifth Harmony to sing it out for survival and another week on the show. Even though I loved Fifth Harmony last night, I think they haven't been strong enough in the rankings and have been slipping the last couple weeks. I think the judges save Fifth Harmony and send Paige Thomas home, so in a fitting elimination both CeCe and Paige go home…the two they put up against each other during the audition rounds.
Who do you think is going home tonight on The X Factor USA?
Join us on RealityRewind.com for all your The X Factor Season 2 news, recaps, previews and predictions. Subscribe to our Email and RSS or like us on Facebook and follow us on Twitter for all our latest updates.
SHARE YOUR THOUGHTS! LEAVE A COMMENT NOW:
Commenting Rules:
Keep the conversation civil and on topic. If your comment does not add to the conversation or is insulting to others, it will be removed. Debate intelligently. No ALL-CAPS.