The X Factor Season 2 Predictions: Top 12 Spoilers – Who Goes Home Tonight?
|
November 15, 2012 at 1:00 PM EDT
The Top 12 took the stage last night on The X Factor Season 2 and it was another battle between the judges (Simon Cowell, L.A. Reid, Demi Lovato and Britney Spears) on who can talk worse about the other person's singers. The X Factor judges really drive me insane and need to realize it is about the singers and not them! Anyway, we have a double elimination tonight on The X Factor 2012, but who was eliminated from The X Factor USA? Keep reading for my The X Factor Season 2 predictions!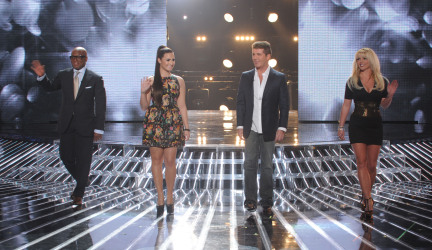 For some reason last week they announced the rankings of all the remaining singers based on America's votes. While it seemed like a waste of time and awkward the whole time, it was interesting to see some of the results. I was surprised to see Vino Alan so high up on the board at the #3 spot. I was surprised to see Emblem3 at the #6 spot (I thought they would be #1). Another shocker was Fifth Harmony in the #5 spot…apparently America loves these girls.

Tonight on The X Factor Season 2, we will see two more acts go home. To me, it looks like simple on who goes home, but you never know what America will vote. I think seeing the rankings last week might get some people to get up and vote, but only for people that had amazing performances and don't deserve to be on the bottom. I think Beatrice Miller had a very good performance and America found out more about her and she won over some more votes and will be safe this week and maybe higher up in the rankings.
For the singers going home on The X Factor USA Season 2, I think it is obvious that CeCe Frey and Arin Ray will be leaving us tonight. It has been a roller coaster ride with CeCe. I hated her at first because she was so cocky during the auditions. Then she broke down during the judges' homes and I liked her and was rooting for her. The live shows kick off and she lost any confidence she had during the audition rounds. She hasn't been that great and has been in the bottom and last night her performance was mediocre and she will go home tonight.
Arin Ray is another one I have gone up and down with. I have never liked him because he made the live shows last year with a group the judges formed. They were cut early on during Season 1 and he came back again to audition solo. I feel he had his chance and give someone else that opportunity. Apparently America agrees with me because he was shockingly in the #11 spot last week. He had a crappy performance last night, so I don't think he got people up to vote and he will be headed home as well.
Do you agree with my X Factor Season 2 predictions? Who do you think goes home tonight?
Join us on RealityRewind.com for all your The X Factor Season 2 news, recaps, previews and predictions. Subscribe to our Email and RSS or like us on Facebook and follow us on Twitter for all our latest updates.
SHARE YOUR THOUGHTS! LEAVE A COMMENT NOW:
Commenting Rules:
Keep the conversation civil and on topic. If your comment does not add to the conversation or is insulting to others, it will be removed. Debate intelligently. No ALL-CAPS.