The X Factor Season 2: Kesha Performs On X Factor USA Season 2 (VIDEO)
|
December 6, 2012 at 8:57 PM EDT
The X Factor USA Season 2 results show mean nothing more than two acts heading home and a big name performer to hit the stage to waste some time and to fill up an hour of the show. This season, we have seen Alicia Keys, Taylor Swift and One Direction on The X Factor USA 2012 results show. Those are some big names, but this week might get a little bit messy. Kesha is set to perform tonight on The X Factor Season 2, so do you think she will be sober long enough today to perform? Check out her performance below on The X Factor USA 2012.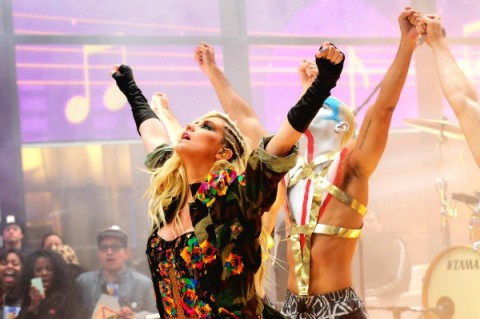 Ke$ha took the world by storm back in 2009 with her debut album, which included the smash hit "Tik Tok." Most of the album was an anthem to partying and the occasional walk of shame. Ke$sha is known for her partying ways and that hasn't seemed to change for her. She has tweeted out pictures of herself peeing in the streets and all her songs revolve around partying, but I guess write what you know best. Ke$ha is also known for writing "Till The World Ends," which was a hit for The X Factor judge Britney Spears.

With the release of her sophomore album Warrior this past Tuesday, Ke$ha is hitting up all the shows to promote it. The first single from the album was "Die Young" and that hit the Top 10 charts and did very well. I enjoy that song and wish she was performing that tonight on The X Factor 2012, but she debuted a new song called "C'mon." It is a fun song and you can check it out here:
Join us on RealityRewind.com for all your The X Factor Season 2 news, recaps, previews and predictions. Subscribe to our Email and RSS or like us on Facebook and follow us on Twitter for all our latest updates.
SHARE YOUR THOUGHTS! LEAVE A COMMENT NOW:
Commenting Rules:
Keep the conversation civil and on topic. If your comment does not add to the conversation or is insulting to others, it will be removed. Debate intelligently. No ALL-CAPS.