The X Factor Season 2: Cher Lloyd Performs On X Factor USA Season 2 (VIDEO)
|
November 22, 2012 at 11:06 PM EDT
The X Factor Season 2 still aired tonight despite it being Thanksgiving, so besides seeing two more acts leave us tonight we also got to see Cher Lloyd perform on X Factor USA Season 2. Why The X Factor 2012 aired tonight is beyond me and I very curious to see how they did with the ratings, but I am thinking they weren't great. Who wanted to stop eating all their turkey to tune in for The X Factor Season 2 results? A treat though: Cher Lloyd on X Factor USA!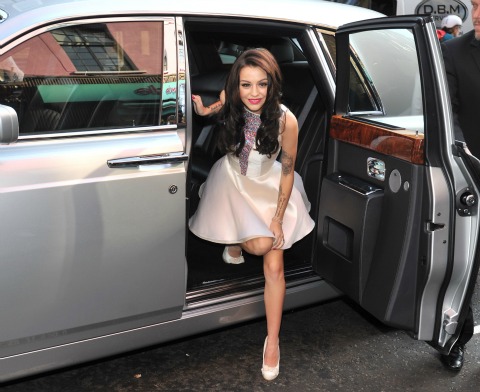 Cher Lloyd made a name for herself when she appeared on the British version of The X Factor. She may not have won the competition, but she has gone on to have some big success since the show. She had the big hit this year called "Want U Back." Admit it…you have the song downloaded and may have sang it once or twice when no one was watching or singing it in your car on your way to work! The song is so catchy and I loved it…I will admit it proudly!

Cher took the stage on The X Factor USA Season 2 and showed America why she made it to the finals of the British version. She sang her new song called "Oath" and it featured Becky G. This is another fun song from Cher Lloyd and I am a fan. You can check out the video of her performance on The X Factor 2012 below and let me know what you think of it. She has an upbeat vibe to her songs and I just enjoy listening to them, even if that makes me a tween girl!
Join us on RealityRewind.com for all your The X Factor Season 2 news, recaps, previews and predictions. Subscribe to our Email and RSS or like us on Facebook and follow us on Twitter for all our latest updates.
SHARE YOUR THOUGHTS! LEAVE A COMMENT NOW:
Commenting Rules:
Keep the conversation civil and on topic. If your comment does not add to the conversation or is insulting to others, it will be removed. Debate intelligently. No ALL-CAPS.