The X Factor Season 2: Britney Spears To Return For Season 3
|
November 6, 2012 at 8:30 PM EDT
It isn't confirmed, but it looks like Britney Spears is coming back for Season 3 of The X Factor. FOX has confirmed already that The X Factor Season 3 will be happening and one of The X Factor judges willing to come back is Britney Spears. No judges have been confirmed for the new season, but how about we finish The X Factor Season 2 before we start planning for the next season?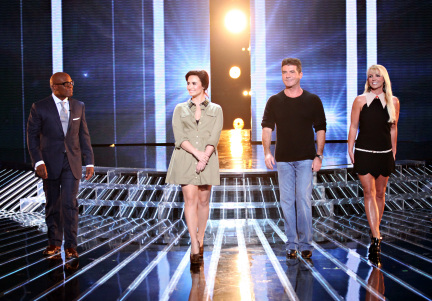 After a dismal Season 1 for The X Factor, FOX and Simon Cowell made some big changes to bring in the ratings. They got rid of Paula Abdul and Nicole Scherzinger as judges and fired Steve Jones as host. They brought in Britney Spears and Demi Lovato as new judges for The X Factor Season 2 and the new co-hosts premiered last week, as Khloe Kardashian and Mario Lopez took the stage for the first time.

All of these changes for The X Factor 2012 have led to a ratings increase for the show, but they are still losing to The Voice Season 3. They will go head-to-head the next two nights thanks to the Election Night tonight, so it will be interesting to see who wins it. With the ratings increase, you would expect FOX and The X Factor 2012 to want to bring back all the people who helped it happen, but no judges were announced when the announcement of Season 3 happened.
There is still a lot of season left, but in an interview Britney Spears said, "Yes, I definitely will," when asked if she would come back for another season. This is a huge thing for her to say, but then again I don't know if she knows what she is saying half of the time. Would you want to see Britney Spears come back for The X Factor Season 3?
Join us on RealityRewind.com for all your The X Factor Season 2 news, recaps, previews and predictions. Subscribe to our Email and RSS or like us on Facebook and follow us on Twitter for all our latest updates.
SHARE YOUR THOUGHTS! LEAVE A COMMENT NOW:
Commenting Rules:
Keep the conversation civil and on topic. If your comment does not add to the conversation or is insulting to others, it will be removed. Debate intelligently. No ALL-CAPS.