The X Factor Season 2: Alicia Keys Performs On X Factor USA Season 2 (VIDEO)
|
November 29, 2012 at 9:10 PM EDT
The Top 8 on The X Factor Season 2 saw two more acts eliminated tonight, as we now have the Top 6 on The X Factor 2012 and to top that we also got to see Alicia Keys perform on The X Factor USA Season 2. Simon Cowell and FOX have brought out the big guns for The X Factor results show and brought on some big names, including Alicia Keys tonight. She is out promoting her album and made a stop on The X Factor Season 2.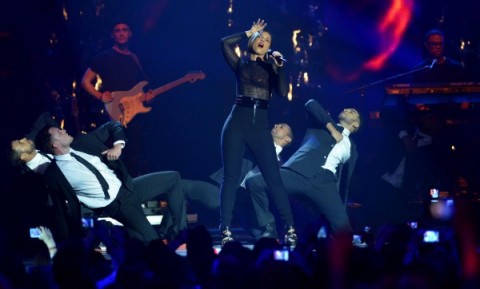 To help with the ratings on The X Factor 2012, there have been some big musical guests during the results show this season. So far, we have seen One Direction take the stage and sing a couple times as they made a big deal for them being on the show. We have also seen Taylor Swift and Cher Lloyd come on the show to sing some of their current singles. Cher and One Direction both got their start on the British version of The X Factor and making it big in this country, so just sharing the love with The X Factor fans.

Alicia Keys has her new album out right now called Girl On Fire. She is out promoting that album and comes to The X Factor USA to sing her single "Girl On Fire." I love this woman and her voice is amazing. So many singers that have come across the stage of The X Factor and other singing shows audition while singing songs by Alicia, so it is great to see her sing live. Amazing singer with an amazing voice and she looks so good. Check out Alicia Keys performance on The X Factor Season 2 right here:
Join us on RealityRewind.com for all your The X Factor Season 2 news, recaps, previews and predictions. Subscribe to our Email and RSS or like us on Facebook and follow us on Twitter for all our latest updates.
SHARE YOUR THOUGHTS! LEAVE A COMMENT NOW:
Commenting Rules:
Keep the conversation civil and on topic. If your comment does not add to the conversation or is insulting to others, it will be removed. Debate intelligently. No ALL-CAPS.