The Voice USA Season 5 Recap: Premiere – Blind Auditions (VIDEO)
|
September 23, 2013 at 7:00 PM EDT
The summer TV season seems to drag on and on because there are not that many options to watch, especially since The Voice USA Season 5 is not on! Well, that changes tonight and it is officially fall season on NBC and The Voice USA 2013 is back and so are Christina Aguilera and Cee Lo Green, who took off Season 4 to work on some personal projects (i.e. Christina worked on losing like 40 pounds…girl is looking fierce)! I am pumped for these blind auditions on The Voice Season 5 to start tonight and love this part of the show! Watch it with us during our The Voice USA Season 5 Recap!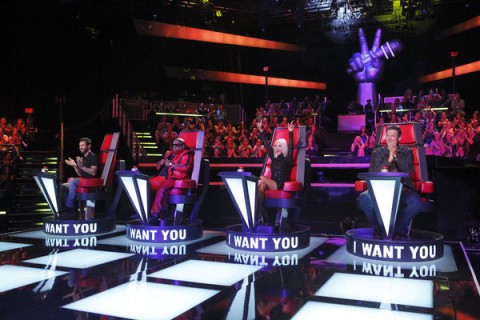 Doesn't it seem like it has been a long time since we saw Danielle Bradbery win Season 4 and take home the third win in a row for coach Blake Shelton and Team Blake? Can he win four in a row or will the coaches be working together to take him down? I am curious to see what type of singers Blake will gun for this season. He was on a mission to get a country singer to win The Voice and it worked with Danielle, so will he add some variety to his team for The Voice 2013 Season 5?

Find out in our The Voice USA Season 5 Recap that follows and check out the videos of all the performances!
WARNING: THE VOICE USA SEASON 5 SPOILERS AHEAD!
The following post contains videos from tonight's episode of The Voice 2013 Season 5 Premiere Blind Auditions. Don't want to see them yet then don't look ahead!!!
***********************************************************************
Here we go…how are we liking the beard on Adam Levine? I am not a fan but maybe it will grow on me. I did like me some Shakira and Usher on Season 4, but it is good to see Christina and Cee Lo back. This should be a fun season! The coaches start the season singing "I Love Rock and Roll" and they get it started right. A tradition for every season that never gets old!
Kat Robichaud is our first blind audition of the season! She loves 70s rock and started a band in high school and played festivals and other gigs and on the road and her husband was too, so they never saw each other and she stopped. Then her Dad passed away in February and she is now getting back into her passion. She starts a little slow, but then kicks it in and I love her rocker voice. She gets Cee Lo, Christina and Blake to turn around. Cee Lo said she reminded him of all the greats, but so fresh and original. Christina said she is excited to work with people that have a true passion. Blake wants her to come join Team Blake. Kat picks Cee Lo and we have the return of Team Cee Lo on The Voice USA Season 5!
Next up on The Voice USA 2013 is Caroline Pennell, who is 17 years old and is very shy. She learned he could sing while at camp. She seems awkward and looks awkward, but I think she is going to be amazing. What do you think? She has that indie-style voice and I love that. Blake has worked with this type of singer in the past and he turns around with Cee Lo. I am very excited to see how they change up her look. Blake said her voice is relaxed and it just is natural and he wants her to start believing in herself and she is a badass vocalist! Adam said she reminds him of the ballerina on the music box, which is so true! Cee Lo thinks they are cut from the same cloth! She goes Team Cee Lo and two singers already for him!
Donna Allen is 54 years old and is the oldest singer on The Voice USA 2013. She toured with Gloria Estefan, but had a son and took time off to raise him. She is now back to complete her journey and she wants to be the first singer over 40 to win The Voice. She starts out and Christina turns around right away. She has such a strong voice and such control and can hit those notes. Adam joins her and the battle is on! Christina said that voice is like the heavens opening up. Blake tells her to pick Christina! Adam was shocked all four didn't turn around and felt they were at the end of the season already. She has such respect for Christina, but she chooses Team Adam!!! I am shocked!
Our next artist is Jake Worthington and he is 17 years old from Texas. He sounds country, so could we have our first singer for Team Blake? He has a decent voice, but nothing special and none of the coaches turn around! He is young, so he has time to grow. He is very humble and sweet, which is awesome to see.
Matthew Schuler is up next and he plays rugby in college. He also works at a bagel shop and wrote songs to remember the sandwiches. He decided to audition for The Voice USA Season 5 because he has songs in him he wants to share with the world. He has a great voice and all four coaches turn right around. Blake and Christina go shake his hand. It is a big fight now! They state their case, but he decides to join Team Christina!
Carson Daly hit the road and met some of the artists before their blind auditions, which included Kaley Cuoco's sister! Our next artist is Nic Hawk and he has been doing musicals. His Mom called and said his stepdad left them after 25 years and he moved home to help support her and his brother who has epilepsy. They are more stable and time for him to get back into what he loves doing. He has a unique voice and is having fun, which is enough to get Adam and Cee Lo to turn around. He does some flirting with Adam, but they both give him praise for his breath control. Nic said he didn't know if he could be on Team Adam because he is so good-looking and it would be hard for him to focus! He goes with his heart and picks Team Adam!
We get some quick looks at some young artists, who the coaches think need a little more experience before making the show. Will we see any of them in the next season or two?
The family of Matthew Brea moved from Haiti to pursue his dreams. Music was a sense of him to express his feelings, whose brother passed away when Matt was 7 years old and his brother was two. He is only 15 years old and has a good voice. None of the coaches turn around for him and Cee Lo is ticked! He said he is a child prodigy and thought he was like a 40-year-old. Cee Lo comes backstage and gives him some encouraging words, which is so nice to see.
Shelbie Z. is a stylist and pageant coordinator. She has a passion for music and now it is a fire she needs to let out! She is a big girl and people started giving her a hard time, so she quit the pageants. She has a great country voice and she owns that stage. Her confidence is so high and I love it! She gets Christina, Cee Lo and Blake to push their buttons. They all think she is strong and think she is going Team Blake. She doesn't disappoint and she joins Team Blake!
Josh Logan got his girlfriend pregnant when he was 16 years old. He was not okay with it at first, but then stepped up and became a good dad. He started back in his music and he wants something stable now for his son and family. He sings an Alex Clare song and sounds amazing, but is it too close to the original? Adam, Christina and Blake all turn for him, but I want to see more of him. Blake said he has a man crush on him. Christina would love to work with him. He shocks a lot of people and picks Team Christina and tells her to show him how to win!
Delvin Choice is up next on The Voice 2013 Season 5 and he is quite a character. He is funny and entertaining. He is a barista at Starbucks and sings when he hands out the coffee. He does have a very solid voice and very strong, yet none of the coaches turned for him! They all regret it now that they turn around and love his personality! They tell him to make sure he comes back!
We are now at the final artist of the night on The Voice Season 5 and it is James Wolpert. He was in college to be an artist, but his real passion is music. He took some time off and here he is now! This was an interesting song and you would never expect it out of him, but he does a great job and gets all four coaches to turn around! Blake said to have that much character in his voice is amazing and he is the complete vocalist. Adam said he is so advanced and he can win this. Cee Lo said he didn't need their turnaround and he is so confident. Christina said he showed why she came back to this show. They all fight for him BIG TIME! He goes Team Adam!
That is it for tonight and we have Team Adam with three artists, Team Cee Lo and Team Christina with two artists and Team Blake with one artist. Who was your favorite of the night?
Join us tonight on Reality Rewind for our The Voice USA Season 5 Recap. Let's watch together as The Voice Season 5 blind auditions begin! Subscribe to our Email and RSS or like us on Facebook and follow us on Twitter for all our latest updates.
SHARE YOUR THOUGHTS! LEAVE A COMMENT NOW:
Commenting Rules:
Keep the conversation civil and on topic. If your comment does not add to the conversation or is insulting to others, it will be removed. Debate intelligently. No ALL-CAPS.