The Voice USA 2014 Spoilers: Christina Grimmie Blind Audition (VIDEO)
|
February 25, 2014 at 10:38 AM EDT
The Voice USA 2014 blind auditions kicked off last night on NBC and it was a strong start to The Voice USA Season 6. In the end, eight singers made the show and The Voice Season 6 coaches were fighting hard to get them on their team. Christina Grimmie was the first four-chair turnaround of the season and the coaches all wanted her! Check out the Christina Grimmie performance on The Voice 2014 last night below in our The Voice USA 2014 spoilers video!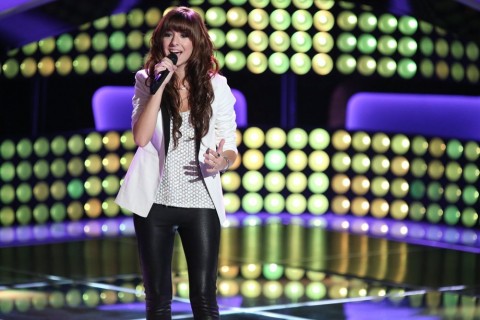 We started the show with Christina Grimmie, who has 2 million subscribers on YouTube. She sings "Wrecking Ball" by Miley Cyrus and she has a killer voice. She gets all four chairs to turn around and it gets ugly. Adam Levine said she looked more comfortable up there then he does. Shakira is throwing out the woman card already. Blake Shelton said she would never get a word in if she picked Usher and he said it is about her and he wants to make her the winner of this show. They all fought, but Christina joins Team Adam!

It is crazy to think, but do you ever notice that Adam seems to win most of the four-chair turnarounds? Why do you think that is? He does have a way with words, but I thought Blake did well trying to sell himself on this one. I think Christina is a good fit for Team Adam, so this one worked out, but a lot of times they always go with Adam for some reason, but he does have two victories under his belt!
Check out the Christina Grimmie blind audition here:
Do you think Christina Grimmie will be the winner of The Voice USA Season 6?
Join us tonight on Reality Rewind for our The Voice USA 2014 Recap. Let's watch together as The Voice Season 6 blind auditions continue! Subscribe to our Email and RSS or like us on Facebook and follow us on Twitter for all our latest updates.
SHARE YOUR THOUGHTS! LEAVE A COMMENT NOW:
Commenting Rules:
Keep the conversation civil and on topic. If your comment does not add to the conversation or is insulting to others, it will be removed. Debate intelligently. No ALL-CAPS.