The Voice USA 2014 Recap: Night 3 Blind Auditions (VIDEO)
|
March 3, 2014 at 7:00 PM EDT
We begin Week 2 on The Voice USA 2014 tonight, as the Blind Auditions on The Voice USA Season 6 are going along strong and The Voice Season 6 coaches (Adam Levine, Blake Shelton, Usher and Shakira) are looking to add more singers to their teams tonight. I love the blind auditions and seeing the coaches fight for the singers, but it is only the beginning of what is to come throughout the season. I love seeing the coaches react to hearing the singers, which we will see go down tonight during our The Voice USA 2014 Recap and watch the blind auditions with us!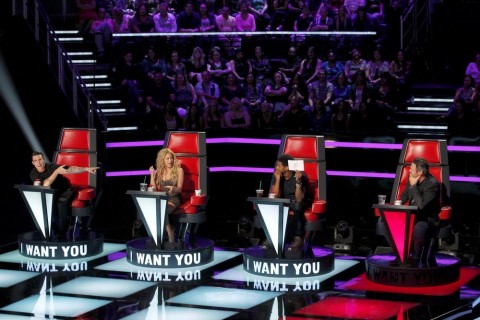 Last week on The Voice Season 6, things got off to a great start for the new season. We welcomed back Usher and Shakira and it was like they never missed a beat. To be honest, I was missing Blake Shelton a little and how he didn't get shown a whole lot, besides the singers seeming to shut him out! It looks like he'll be back in Week 2 on The Voice 2014 and I love every second of that! The four-chair turnarounds continue tonight, which means more fights from the coaches to get the artists on their team!

Find out in our The Voice USA Season 6 Recap that follows and check out the videos of all the performances!
WARNING: THE VOICE USA 2014 SPOILERS AHEAD!
The following post contains videos from tonight's episode of The Voice 2014 Season 6 Blind Auditions. Don't want to see them yet then don't look ahead!!!
***********************************************************************
[Please refresh this page frequently for the latest updates in our The Voice 2014 recap]
Here we go…we take a look back at Week 1 of the blind auditions. We have Team Adam and Team Usher with four artists, Team Shakira with three artists and Team Blake with two vocalists. The first artists is Ryan Whyte Maloney and he had several bands growing up. Music was his outlet for everything going on in his life growing up and he even was a garbage man and gigged at night! He has that rocker sound to his voice and he gets Adam, Blake and Shakira to turn right around and Usher joins them at the very end. Ryan picks Team Blake.
Up next is DeShawn Washington and he loves being out in nature and fishing with his uncle. He started singing when he was four years old with his brothers singing in churches. He wants to travel the world and share his voice. His family doesn't have a whole lot, so he is hoping to make a team and provide for them. He has a very solid voice and I am liking his vibe, but the coaches aren't hitting the buttons! Shakira finally does and she gets him, as DeShawn joins Team Shakira!
Time for Carson Daly to head out and meet the next contestant, Sam Behymer, who is a nanny and her kids call them their own Mary Poppins! She sang in church, but didn't start performing in public until college. Her parents don't think music is a great career path and she can't make money in it. Now she is considering going to grad school and leaving music in her past. She has this very unique sound to her voice, which is similar to Lorde in the song she sings. She gets Adam and Usher to hit their buttons and she joins Team Adam.
After some no auditions, we see Brendan Ryan, whose parents met through music and it was in his life his whole life. Music has been his love, but then he did improv in college and comedy is his second love. His parents told him to pursue his music career for a year and if nothing there, then start his backup plan. The year is almost up and here he is now! I am liking his style and his voice and his twist on the Beyonce song, but no coaches turn around for him!
It is time for our second duo of the season, as Brothers Walker take the stage. They are identical twins and started singing as soon as they could talk. They sang for Johnny Cash and ended up opening for him that night. One is an Algebra teacher and one is an audio engineer. Owning their own business has inspired their love of music again and think this show is perfect for them. They are having fun on that stage and they have some strong country voices. Could we have another Swon Brothers for Team Blake??? I guess he was not interested, as Usher hits his button with his foot at the very end and they join Team Usher!
Next up on The Voice USA 2014 is Clarissa Serna, who works at her parents' real estate agency. She volunteers at an after-school music program for girls and loves doing it. She wants to share her passion with other girls around the world by being on The Voice. She loves working for her parents, but knows music is her passion. She is hoping Usher turns and she gets all four of the coaches to turn for her, but she picks Team Shakira.
We see some quick additions for The Voice USA 2014, but then it is time to look at Robert Lee, who is a mailman currently. He said it is a great job, but his passion is music and plays gigs four nights a week. He got married at the age of 20 and have a child together, but got divorced a couple years later. He got remarried last year and she is pregnant with twins, so he is feeling the pressure to do well tonight! He has a good voice, but there is nothing special about it that makes it stand out and no coaches turn around for him!
Next up on The Voice USA 2014 is Melissa Jimenez, who is looking to carry on the family business. Her father has a 10-piece band that she joined when she was 15 years old and how she has made her living. She loves working with her dad's band, but wants to sing on her own. She has had a recording contract, but it didn't work out. She has an amazing voice and sounds so good and it takes a while, but Usher and Shakira hit it right at the end and Melissa picks Team Usher.
Now we get to see Patrick Thomson, who first got into music because of his mother and the band she had with her brother and sisters and they would go to band rehearsals as kids. They were a folk music band, which he does do at times. His mother said this is what he needs to be doing for his life. He has the rocker voice and country sound to him and he is solid. It takes some time, but Blake said he is going in and Adam joins him! Patrick picks Team Adam and Blake is shut out again!
Can Allison Bray make a team on The Voice 2014? She grew up in a conservative family and doesn't want her doing bar gigs since she is only 17 years old. She has a raspy voice while just talking, so I am intrigued to see how she does on that stage. She starts very strong and has a lot of lungs on her, but apparently none of the coaches were feeling her because none of them hit their button for her!
The final artist of the night is 44-year-old Sisaundra Lewis, who is a preacher's daughter. Her career started to expand when she moved to Atlanta and was vocal director for Celine Dion. She wanted to give her children more of her, so she came off the road and now she wants music back in her life. She has an amazing voice and she is going to go far this season and all four coaches hit their buttons for her. She picks Team Blake!
The blind auditions are done for tonight and we have Team Adam and Team Usher with seven artists, Team Shakira with six and Team Blake with four artists! What did you think of The Voice USA 2014 tonight?
Join us tonight on Reality Rewind for our The Voice USA 2014 Recap. Let's watch together as The Voice Season 6 blind auditions continue! Subscribe to our Email and RSS or like us on Facebook and follow us on Twitter for all our latest updates.
SHARE YOUR THOUGHTS! LEAVE A COMMENT NOW:
Commenting Rules:
Keep the conversation civil and on topic. If your comment does not add to the conversation or is insulting to others, it will be removed. Debate intelligently. No ALL-CAPS.