The Voice Season 3: Trevin Hunte Top 8 Performance (VIDEO)
|
November 26, 2012 at 11:16 PM EDT
The Top 8 on The Voice Season 3 came out tonight and knocked it out of the park, but did Trevin Hunte do enough to win over your votes and remain another week on The Voice 2012? He tried to be fun last week and now he went back to what he does best: Whitney Houston songs. Trevin Hunte Top 8 performance on The Voice Season 3 was a good one, but was it lacking compared to some of his other performances on The Voice Season 3?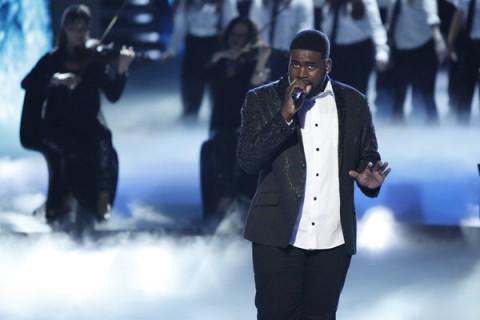 Trevin Hunte sang "Greatest Love Of All" by Whitney Houston for his song tonight and you can check it out below, but I thought it lacked something also. Trevin has an amazing voice and he did shine during this performance, but I was a little bored with it. Anyone else? He is a super nice guy and very humble, so you want to root for him and even though I wasn't blown away by this performance on The Voice Season 3, I still think he will be safe when it comes to The Voice results tomorrow night.

Trevin has such a strong voice that he has been able to take on some of the biggest divas in the business, like Whitney Houston and Celine Dion, and he is able to do it with such ease. He did this song with such power and grace, but the song itself never seemed to go anywhere. He is known for hitting those huge notes on The Voice Season 3, but to me there was a note here and there for him to hit, but other than that it was just a good vocal.
Check it out below and tell me your thoughts on the Trevin Hunte Top 8 performance on The Voice 2012:
Join us on RealityRewind.com for all your The Voice Season 3 news, recaps, previews and predictions. Subscribe to our Email and RSS or like us on Facebook and follow us on Twitter for all our latest updates.
SHARE YOUR THOUGHTS! LEAVE A COMMENT NOW:
Commenting Rules:
Keep the conversation civil and on topic. If your comment does not add to the conversation or is insulting to others, it will be removed. Debate intelligently. No ALL-CAPS.