The Voice Season 3 Top 6: Trevin Hunte Performances (VIDEO)
|
December 3, 2012 at 11:03 PM EDT
One of my early favorites on The Voice Season 3 was Trevin Hunte and week after week he has continued to be a strong contender on The Voice 2012. He took the stage tonight with the Top 6 on The Voice Season 3 and left it up to America to decide if he will move onto another week or will his time end during the Live Quarterfinals show? I think his performances have been weak the past couple weeks, so tonight was a big night for Trevin Hunte on The Voice Season 3 and tomorrow we will find out who was eliminated on The Voice 2012!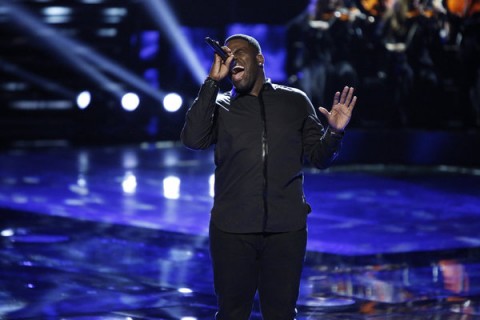 For his first song, Trevin Hunte has to take on "Walking On Sunshine" by Katrina & The Waves. Cee Lo Green picked this one for Trevin and I am not a fan. He wanted a more upbeat song, but didn't he see that the Usher song he took on a couple weeks ago failed? It was nothing special and didn't show off the vocals and ability to hit the big notes. Trevin seems to be falling further and further back for me and this confirms it. I think the next performance is huge for him on The Voice Season 3, but check it out for yourself:

For the second song, Trevin went back to the ballads and he brought back the chills for me during his performances. I said he had to go big and huge is what he went. He chose to sing "And I Am Telling You I'm Not Going" by Jennifer Hudson. He was perfect and brought all the judges to their feet. Christina Aguilera even offered a spot on the road with her if he doesn't get a record deal from this show. He does awesome and he won me back over. Check it out here:
Would you vote for Trevin Hunte on The Voice Season 3?
Join us on RealityRewind.com for all your The Voice Season 3 news, recaps, previews and predictions. Subscribe to our Email and RSS or like us on Facebook and follow us on Twitter for all our latest updates.
SHARE YOUR THOUGHTS! LEAVE A COMMENT NOW:
Commenting Rules:
Keep the conversation civil and on topic. If your comment does not add to the conversation or is insulting to others, it will be removed. Debate intelligently. No ALL-CAPS.