The Voice Season 3 Top 6: Nicholas David Performances (VIDEO)
|
December 3, 2012 at 10:28 PM EDT
The Top 6 on The Voice Season 3 took the stage tonight and for the first time this season we got to see the remaining six singers take on two songs! The Voice 2012 Top 6 took on a song of their own choice and then sang a song picked for them by their coach. It was Live Quarterfinals on The Voice Season 3, so the pressure was on tonight for the Top 6. It is all up to America's vote now, but you can see the performances by Nicholas David below and tomorrow find out who was eliminated on The Voice Season 3.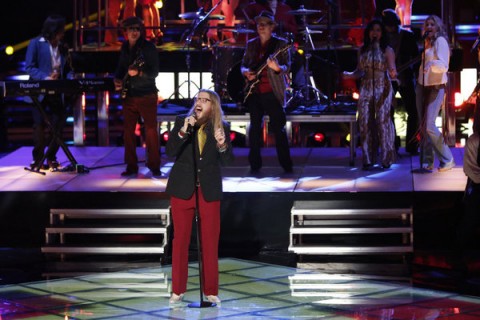 For his first song, Nicholas David sang "September" by Earth, Wind and Fire. This was the choice by Cee Lo Green and I am thinking Cee Lo picked wrong. The arrangement was a little weird for me and it seemed like Nicholas was not singing with the soul he normally does. I am a huge fan of Nicholas and I did enjoy his voice on this song, but it was lacking something for me. He normally pours out the soul and this didn't have it for me. Check out the performance here:

For the second song, Nicholas David wanted to sing a song to his mother, who has always been his biggest fan and this is her favorite. He took on the classic "Somewhere Over The Rainbow" and made it his own. He is such a strong singer and he put a twist on a classic and had a moment on that stage. He has a strong fan base out there and I think they will love this song and it will rise to the top of iTunes. Agree? Check it out here:
Would you vote for Nicholas David on The Voice Season 3?
Join us on RealityRewind.com for all your The Voice Season 3 news, recaps, previews and predictions. Subscribe to our Email and RSS or like us on Facebook and follow us on Twitter for all our latest updates.
SHARE YOUR THOUGHTS! LEAVE A COMMENT NOW:
Commenting Rules:
Keep the conversation civil and on topic. If your comment does not add to the conversation or is insulting to others, it will be removed. Debate intelligently. No ALL-CAPS.