The Voice Season 3 Top 6: Cassadee Pope Performances (VIDEO)
|
December 3, 2012 at 10:26 PM EDT
With only six singers left on The Voice Season 3, it seems we may have one singer that is running far ahead of the other remaining six performers. Cassadee Pope has been owning the iTunes charts after her performances on Monday nights on The Voice 2012 and her following on Facebook and Twitter is above and beyond the other Top 6 singers on The Voice Season 3. Tonight Cassadee took on two songs for the Live Quarterfinals show of The Voice and tomorrow we will find out who was eliminated on The Voice Season 3. Check out her performances below!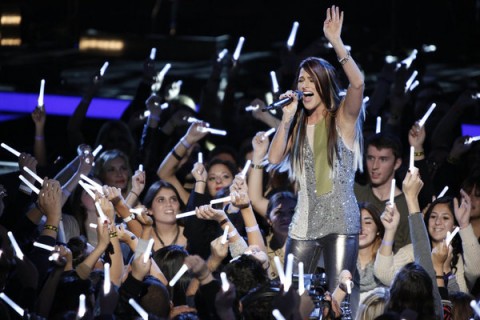 For her first song, Blake Shelton chose another country song for Cassadee. She hit a home run a couple weeks ago on The Voice Season 3 when she sang "Over You" by Miranda Lambert. Blake was trying to get that triumph again by giving her a country song, but it didn't hit the mark for me. It was a big mark to hit, but I just didn't feel the same emotion in this song. She has a great voice and she hits some huge notes, but I was not as impressed. Tell me what you think of Cassadee's performance:

For the second song, Cassadee Pope had a dream about this song and she won The Voice Season 3 while singing it, so here she is singing "I'm With You" by Avril Lavigne. Did she sing it well? Yes. Did she hit some big notes during the performance? Yes. Did it sound a lot like Avril Lavigne? Yes. Did I want to see her make it her own and put a little twist on it? Yes. Check it out here:
Would you vote for Cassadee Pope on The Voice Season 3?
Join us on RealityRewind.com for all your The Voice Season 3 news, recaps, previews and predictions. Subscribe to our Email and RSS or like us on Facebook and follow us on Twitter for all our latest updates.
SHARE YOUR THOUGHTS! LEAVE A COMMENT NOW:
Commenting Rules:
Keep the conversation civil and on topic. If your comment does not add to the conversation or is insulting to others, it will be removed. Debate intelligently. No ALL-CAPS.