The Voice Season 3 Top 6: Amanda Brown Performances (VIDEO)
|
December 3, 2012 at 10:29 PM EDT
It was all about the Top 6 on The Voice Season 3 tonight, as the remaining six singers took the stage to sing two songs! This is a first this season on The Voice 2012. Amanda Brown has been one of the front runners this season on The Voice Season 3 and tonight her performances for the Live Quarterfinals show proved just that. We will see another two singers go home tomorrow night, but will Amanda Brown be one of them? Check out here performances below and decide for yourself, but check back tomorrow to see who was eliminated on The Voice Season 3.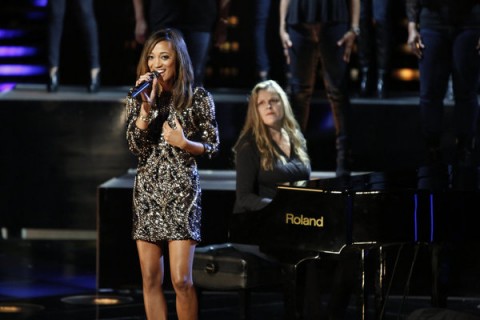 For her first song, Amanda Brown picked to sing "You Make Me Feel Like A Natural Woman" by Aretha Franklin. She wanted to show off a little bit of her church roots and she worked it out. I love her voice and she is so confident on that stage. She hits some big notes and just seems to be having so much fun. Aretha is a legend and I love this song and I think Amanda took it on with power, but you tell me what you think by checking out the performance right here:

For the second song, Adam Levine wanted to bring the rocker girl out of her and he picked "Here I Go Again" by Whitesnake. He chose a perfect song for Amanda and I so want this girl to win it all. She is strong and is just a natural performer. The girl knows how to work a stage and you can see that in her performance right here on The Voice 2012:
Would you vote for Amanda Brown on The Voice Season 3?
Join us on RealityRewind.com for all your The Voice Season 3 news, recaps, previews and predictions. Subscribe to our Email and RSS or like us on Facebook and follow us on Twitter for all our latest updates.
SHARE YOUR THOUGHTS! LEAVE A COMMENT NOW:
Commenting Rules:
Keep the conversation civil and on topic. If your comment does not add to the conversation or is insulting to others, it will be removed. Debate intelligently. No ALL-CAPS.