The Voice Season 3 Top 4: Trevin Hunte Performance (VIDEO)
|
December 10, 2012 at 9:29 PM EDT
Trevin Hunte won over fans on The Voice Season 3 from the minute he started singing during his Blind Audition. His voice is so powerful and has been a force to be reckoned with this whole competition. Does he have enough fan support though to win it all on The Voice 2012? Tonight he puts that to the test during the Live Semifinals of The Voice Season 3. Four singers remain, but will Trevin make the finals? Check out his performance from tonight and then come back tomorrow to see who was eliminated on The Voice Season 3.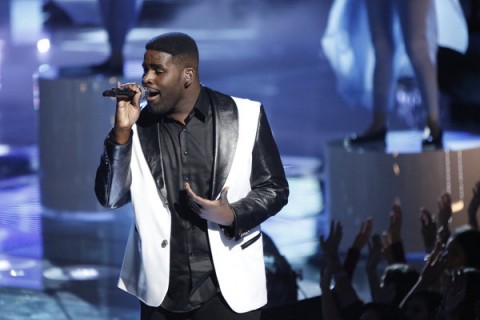 With only one performance tonight, the Top 4 have to make it a great one. Before we get to see Trevin Hunte perform, we get a chance to look at him make a visit home to Pennsylvania. He has a family gathering, which of course brings tears to my eyes, and then he heads to his old middle school to talk to the students and help inspire them. It was all touching and bring me the tissues.

Then it is time for him to perform. Tonight he performed "Wind Beneath My Wings" by Bette Midler. I think Trevin has a strong voice, but to me it sounded a little awkward with this song choice. He is a powerhouse, but it just seemed weird at the beginning. Of course he ends it with some big notes and it makes you forget about those awkward moments earlier on. I think he needed to be stronger tonight though. Check out his performance on The Voice 2012 tonight below and judge for yourself:
Would you vote for Trevin Hunte on The Voice Season 3?
Join us on RealityRewind.com for all your The Voice Season 3 news, recaps, previews and predictions. Subscribe to our Email and RSS or like us on Facebook and follow us on Twitter for all our latest updates.
SHARE YOUR THOUGHTS! LEAVE A COMMENT NOW:
Commenting Rules:
Keep the conversation civil and on topic. If your comment does not add to the conversation or is insulting to others, it will be removed. Debate intelligently. No ALL-CAPS.