The Voice Season 3 Top 4: Terry McDermott Performance (VIDEO)
|
December 10, 2012 at 9:44 PM EDT
Terry McDermott has made a big name for himself this season on The Voice 2012 and he is one step away from making it to the finals of The Voice Season 3. He has brought a new voice to The Voice and we have the rock edge that did lack in the first two winners. Terry has a huge fan base and often hits the #1 spot on the Rock Charts of iTunes. It was Team Blake versus Team Cee Lo tonight, so check out how Terry did tonight on The Voice Season 3.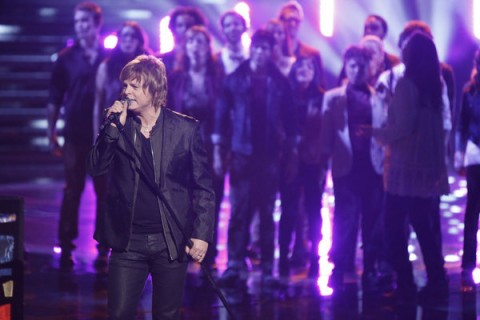 The last singer of the night tonight was Terry from Team Blake. We got to see him head back to New Orleans and surprise his son with his visit, which was nice to see. Then it is all about a surprise for Terry, as his aunt and uncle from Scotland surprise him! It was cute to see and it made me happy.

For his performance, what more perfect song could you think of for Terry to sing for a chance to make it to the finals. He takes on "Let It Be" by The Beatles, which shows off how perfect his rock voice is. He was smooth and showed why his songs skyrocket up the charts every week on iTunes. Blake Shelton said it was music perfection and I kind of have to agree. Terry came into tonight knowing what he wanted to do…make it to The Voice Season 3 finals and I think he just did that with this performance. Check it out here and tell me your thoughts:
Would you vote for Terry McDermott to win it all on The Voice Season 3?
Join us on RealityRewind.com for all your The Voice Season 3 news, recaps, previews and predictions. Subscribe to our Email and RSS or like us on Facebook and follow us on Twitter for all our latest updates.
SHARE YOUR THOUGHTS! LEAVE A COMMENT NOW:
Commenting Rules:
Keep the conversation civil and on topic. If your comment does not add to the conversation or is insulting to others, it will be removed. Debate intelligently. No ALL-CAPS.