The Voice Season 3 Top 4: Nicholas David Performance (VIDEO)
|
December 10, 2012 at 9:21 PM EDT
The Top 4 on The Voice Season 3 are all strong singers and each have an equal right to the title of The Voice for this season. Nicholas David is the one I am rooting for most. He is the face of what The Voice 2012 is supposed to be about…the voice. He would make music that people would make love to, like Barry White. It was Team Blake versus Team Cee Lo tonight on The Voice Season 3, so check out how Nicholas David did tonight in his performance videos below.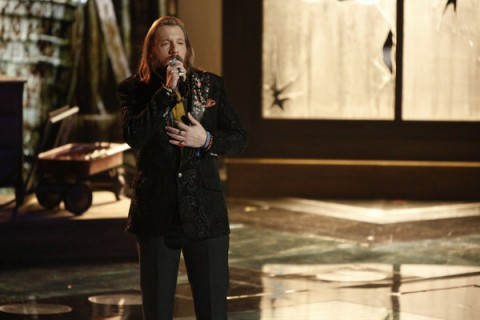 Three singers will make it to the finals next week on The Voice Season 3 and one of those singers, I feel, should be Nicholas David. He is downright amazing and just seems like a good guy all around. We got to see him head back to Minnesota and see the home that his family just purchased for the first time. He then went to the doctor with his wife and got to hear the baby's heartbeat for the first time…such a loving moment.

The tears are all wiped and we get to see Nicholas perform "You Are So Beautiful" by Joe Cocker. If you want to make it to the finals, this is how you should sing. He came out with so much emotion and gave me goosebumps. He has so much soul and you could feel him singing these lyrics to his wife, who was right there in the audience. I think he rocked it out for this performance, but judge for yourself in the video below of Nicholas David's Live Semifinal performance on The Voice Season 3 Top 4:
Would you vote for Nicholas David on The Voice Season 3?
Join us on RealityRewind.com for all your The Voice Season 3 news, recaps, previews and predictions. Subscribe to our Email and RSS or like us on Facebook and follow us on Twitter for all our latest updates.
SHARE YOUR THOUGHTS! LEAVE A COMMENT NOW:
Commenting Rules:
Keep the conversation civil and on topic. If your comment does not add to the conversation or is insulting to others, it will be removed. Debate intelligently. No ALL-CAPS.