The Voice Season 3 Top 4: Cassadee Pope Performance (VIDEO)
|
December 10, 2012 at 9:38 PM EDT
If you looked at social media and iTunes charts, Cassadee Pope seems like she is in full control of The Voice Season 3 and might be the obvious winner? She has a huge fan base and has even made it to #1 on the iTunes charts. It seems like things are lined up for her to win this season, but you just never know. Tonight the Top 4 on The Voice 2012 took the stage and only one singer will go home tomorrow before The Voice Season 3 Finale next week. Check out how Cassadee Pope did tonight on The Voice Season 3 Top 4 Live Semifinals Show tonight.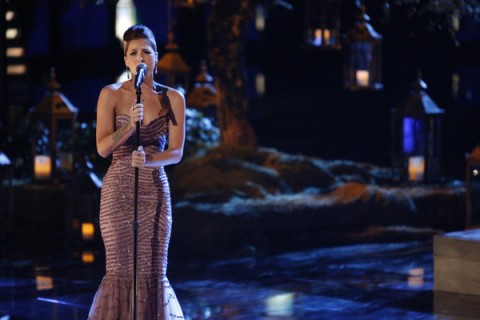 Cassadee Pope gets to visit home in Florida and it lacked any emotion for me. She visited with her family and friends and then did a radio show and then performed live for the city. Was anyone else not moved by this home visit like we normally are with home visits?

Let's focus on the performance though, which was amazing. She sang "Stupid Boy" by Keith Urban. Blake Shelton picked this song for her and I can see why. She has sang a lot of country songs this season and I am going on record to say this: she should drop the pop rock vibe and go country! Anyone agree with me? She nailed this performance and the emotion was amazing. You want to to make the finals of The Voice Season 3? Perform like Cassadee just did! You can check out her performance below and see if you agree or disagree with me:
Would you vote for Cassadee Pope on The Voice Season 3?
Join us on RealityRewind.com for all your The Voice Season 3 news, recaps, previews and predictions. Subscribe to our Email and RSS or like us on Facebook and follow us on Twitter for all our latest updates.
SHARE YOUR THOUGHTS! LEAVE A COMMENT NOW:
Commenting Rules:
Keep the conversation civil and on topic. If your comment does not add to the conversation or is insulting to others, it will be removed. Debate intelligently. No ALL-CAPS.