The Voice Season 3 Predictions: Who Makes The Voice Season 3 Top 8?
|
November 20, 2012 at 1:05 PM EDT
The Voice Season 3 Top 10 took the stage last night and I'm not gonna lie, they did an awesome job. It started a little rough for me, but The Voice 2012 singers kicked it up and by the end I was torn between who was even going to go home tonight. It is out of The Voice coaches' (Blake Shelton, Christina Aguilera, Adam Levine and Cee Lo Green) hands and America calls the shots now, so who was eliminated on The Voice Season 3? Check out my The Voice Season 3 predictions!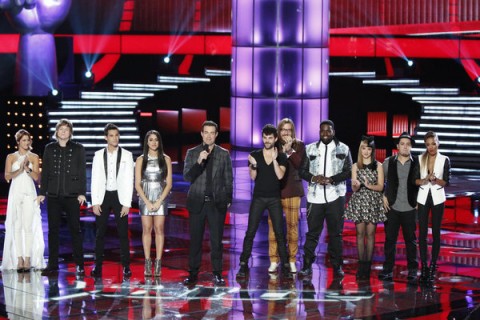 With two singers going home tonight, this is a tough call. Anyone can go home tonight and what team they are on doesn't matter. This is a new concept for The Voice Season 3 and the finale doesn't have to feature a singer from every team, a concept that may have screwed over Jamar Rogers last season. We have Team Adam and Team Cee Lo with three singers and Team Blake and Team Christina with two singers, so one of those coaches could possibly lose both their singers tonight, but I don't think that will happen.

Team Christina has bored me this season. They all have great voices, but something is lacking with their performances and they have been nothing special to me…until last night. Dez Duron is super cute and will continue to get the girls' votes. However, his performance last night was amazing. He brought a whole new game and showed off his great vocals, but with that wow factor I have been missing from Team Christina, so he definitely will be safe. Other singers safe: Cassadee Pope (#1 song on iTunes right now while singing a Miranda Lambert song for Team Blake that blew everyone away), Trevin Hunte (great voice and deserves to be in the finale), Amanda Brown (she came back strong and delivered an amazing vocal performance), Bryan Keith (solid performance and has a lot of fans) and Nicholas David (he surprises me every week by getting voted in by America and last night's performance was epic).
That leaves us with Melanie Martinez, Cody Belew and Syliva Yacoub on The Voice 2012. I am first going to send home Syliva. She performed first and it was a forgettable performance, especially with some of the amazing performances that followed her. She is good, but not good enough to win The Voice Season 3. As for Melanie and Cody, I love them both. Melanie has such a unique voice that I think could sell records. Cody has a personality that makes people want to vote for him. I loved his performance last night and it was so fun and entertaining to watch.
With that being said, I am picking Cody over Melanie to move on to the Top 8 on The Voice Season 3. That means Sylvia Yacoub and Melanie Martinez will be eliminated from The Voice Season 3. Who are your picks?
Join us on RealityRewind.com for all your The Voice Season 3 news, recaps, previews and predictions. Subscribe to our Email and RSS or like us on Facebook and follow us on Twitter for all our latest updates.
SHARE YOUR THOUGHTS! LEAVE A COMMENT NOW:
Commenting Rules:
Keep the conversation civil and on topic. If your comment does not add to the conversation or is insulting to others, it will be removed. Debate intelligently. No ALL-CAPS.