The Voice Season 3 Predictions: Who Makes The Voice Season 3 Top 6?
|
November 27, 2012 at 1:05 PM EDT
The Voice Season 3 Top 8 took the stage last night and it was to mixed reviews for myself. Some of the Top 8 shined on The Voice 2012, while others fell short and didn't seem to wow me like they did last week on The Voice Season 3. Tonight we could see one of The Voice coaches (Blake Shelton, Christina Aguilera, Cee Lo Green and Adam Levine) be eliminated from the show and they will just have to sit back and enjoy the rest of the season like the rest of us. So, who was eliminated from The Voice 2012? Check out my The Voice Season 3 predictions!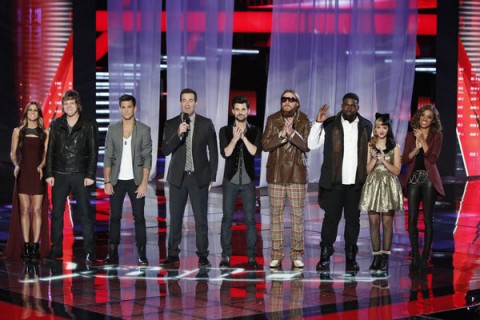 Let me start by saying that I have been thoroughly impressed with how America has been voting so far this season. The people that deserve to be here are here, with maybe the exception of Bryan Keith, who went home last week. The Voice Season 3 Top 8 is a strong group of singers and I am happy they have all made it. To be honest, there is not one singer in the group that I am not a fan of, but that doesn't mean I think they should all win!

Last week we saw Cassadee Pope take the #1 spot on iTunes, which is a huge feat to do. Melanie Martinez took the #8 spot, which did shock me, but I do love that girl. The both got ten times their iTunes votes for making the Top 10, but as of right now, no one is in the Top 10 this week from The Voice Season 3. Cassadee is at #13, so she could creep up in there. The only other one in the Top 100 is Amanda Brown at #87.
My favorites from this week: Amanda Brown, Cody Belew, Nicholas David and Melanie Martinez. By saying that, that doesn't mean they are all safe tonight. I think Amanda and Nicholas are both safe, which makes me happy, but I think Cody and Melanie are in danger of going home. Cassadee Pope, Dez Duron and Trevin Hunte had mediocre performances last night. There was nothing special about them that blew me away, but America loves them all and the girls will vote for Dez, so they are all safe.
The only performance I did not enjoy last night was from Terry McDermott. I think it was boring and lacked some of the spice he normally has and I am thinking it is the end of the road for him tonight on The Voice 2012. With that being said, we need one more singer to go home. Unfortunately, I think that leaves it between Cody Belew and Melanie Martinez to go home. I like them both and wish Dez Duron would go home, but too many girls are out voting for him. I think Cody had a great night and has won over America more and more each week, so I am hoping he is safe and sadly Melanie Martinez will go home along with Terry McDermott.
Who do you think will be eliminated from The Voice Season 3?
Join us on RealityRewind.com for all your The Voice Season 3 news, recaps, previews and predictions. Subscribe to our Email and RSS or like us on Facebook and follow us on Twitter for all our latest updates.
SHARE YOUR THOUGHTS! LEAVE A COMMENT NOW:
Commenting Rules:
Keep the conversation civil and on topic. If your comment does not add to the conversation or is insulting to others, it will be removed. Debate intelligently. No ALL-CAPS.