The Voice Season 3 Predictions: Who Makes The Voice Season 3 Top 4?
|
December 4, 2012 at 1:00 PM EDT
The Top 6 on The Voice Season 3 took the stage last night on the Live Quarterfinals Show and each took on two songs to win over America's votes. The singers chose one song and their The Voice coaches (Blake Shelton, Cee Lo Green and Adam Levine) chose the other song. Christina Aguilera was eliminated last week, so she sat back and watched the performances along with us on The Voice 2012. Tonight we will lose two more singers on The Voice Season 3, but what two will it be? Check out my The Voice Season 3 predictions on who was eliminated on The Voice 2012!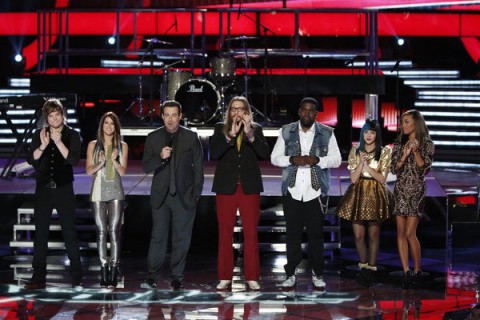 With two performances each by the Top 6 on The Voice Season 3, we have a lot of material to work with in determining who will go home tonight. This is a tricky one because quite honestly, they are all amazing singers and each of them have their own appeal to their fan bases. Cassadee Pope has a huge, huge fan base and has made it in the Top 10 every week on the iTunes charts. Terry McDermott is a rocker that everyone loves, as seen on the iTunes charts. Melanie Martinez is the Indie girl that is unique and different and fans are sending her up the charts in iTunes. Nicholas David has soul seeping out of his body and has found love on the iTunes charts. Trevin Hunte and Amanda Brown have been early front runners and could sing the phone book and make it sound good on The Voice 2012.

This is where it gets difficult. They all can't make it to the Top 4 on The Voice Season 3 and two of them must go home. My sure bet is Cassadee is safe (both her songs made the Top 10 on iTunes). That leaves us with five singers, all equally talented. The iTunes charts are blowing up with the Top 6 performances, so it makes it even harder.
Terry McDermott currently has the #2 spot in iTunes, which is a lot of votes to be multiplied by ten, so I am picking him to be safe. Melanie and Nicholas have been going strong on the charts on iTunes, so in a shocking twist, I am picking them both to be safe tonight as well. That leaves us with Trevin Hunte and Amanda Brown leaving us tonight on The Voice Season 3! Do I want to see that? By no means, but I just have this feeling it is going to go down that way tonight and shock America.
What are your predictions for The Voice 2012 tonight?
Join us on RealityRewind.com for all your The Voice Season 3 news, recaps, previews and predictions. Subscribe to our Email and RSS or like us on Facebook and follow us on Twitter for all our latest updates.
SHARE YOUR THOUGHTS! LEAVE A COMMENT NOW:
Commenting Rules:
Keep the conversation civil and on topic. If your comment does not add to the conversation or is insulting to others, it will be removed. Debate intelligently. No ALL-CAPS.