The Voice Season 3 Predictions: Who Makes The Voice Season 3 Top 12?
|
November 8, 2012 at 1:00 PM EDT
It has been a big week on The Voice Season 3, as we have seen the Top 20 take the stage and for the first time, America was able to vote! The teams started out with five singers this week on The Voice 2012, but when tonight is done there will only be three singers left on each team. American saves two singers and the coaches (Blake Shelton, Cee Lo Green, Christina Aguilera and Adam Levine) will get to use their final save of The Voice Season 3 to save one more singer from their team. Check out my The Voice Season 3 predictions on who I think will make The Voice Top 12!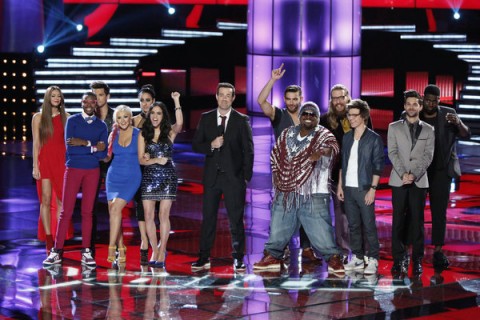 Here are my picks for Team Adam on The Voice 2012:

Adam Levine won as a coach on The Voice Season 1 and he may be headed to a second victory this season. His team is alright, but Amanda Brown may carry him all the way to the finals. She is a strong performer and amazing vocalist, so I expect her to go far. The rest of the team consists of Joselyn Rivera, Melanie Martinez, Bryan Keith and Loren Allred. Melanie will get the other vote from America and then Adam will save Bryan.
Here are my picks for Team Blake on The Voice Season 3:
Blake Shelton is coming off a victory in Season 2 (something he often pointed out during the Blind Auditions) and he has some contenders this season. His true standout and someone with a huge fan base is Cassadee Pope. People out there know her and she will bring in the votes and could make it to the finals. The rest of the team consists of Liz Davis, Terry McDermott, Michaela Paige and Julio Cesar Castillo. I think Michaela gets America's other vote because of being young and gaining that vote and then Blake wants a country singer in the finals, so Liz gets his save.
Here are my picks for Team Cee Lo on The Voice Season 3:
I honestly feel that Cee Lo Green has the strongest team this season. Take Diego Val out of the equation and any of those singers could win it all. America votes though and they will save MacKenzie Bourg (he is cute and the girls love him) and Trevin Hunte (America fell in love with this guy and he may win it all). That leaves Cody Belew and Nicholas David. It is tough for Cee Lo, but I think he goes Cody because he can probably bring in more votes.
Here are my picks for Team Christina on The Voice 2012:
To be completely honest, Team Christina bored me last night. They all are good singers, but there was nothing special about any of their performances. Dez Duron will move on because he is hot and everyone wants him. That leaves us with Adriana Louise, Sylvia Yacoub, De'Borah and Devyn DeLoera. I think Sylvia will get the other vote from America and then I think Christina Aguilera will save De'Borah, just because she adds variety to her team.
What do you think of my The Voice Season 3 predictions? Who are you picking?
Join us on RealityRewind.com for all your The Voice Season 3 news, recaps, previews and predictions. Subscribe to our Email and RSS or like us on Facebook and follow us on Twitter for all our latest updates.
SHARE YOUR THOUGHTS! LEAVE A COMMENT NOW:
Commenting Rules:
Keep the conversation civil and on topic. If your comment does not add to the conversation or is insulting to others, it will be removed. Debate intelligently. No ALL-CAPS.