The Voice Season 3 Predictions: Who Makes The Voice Season 3 Finale?
|
December 11, 2012 at 1:00 PM EDT
The Top 4 on The Voice Season 3 took the stage last night for one single performance in hopes of winning over your votes. Three of the remaining singers (Cassadee Pope, Nicholas David, Terry McDermott and Trevin Hunte) will make it to The Voice Season 3 Finale next week, where they will sing for that recording contract and the title of The Voice. To me, there is a clear singer that should go home tonight on The Voice 2012, but you never know with America. Check out my The Voice Season 3 predictions and then come back tonight to find out who was eliminated on The Voice 2012.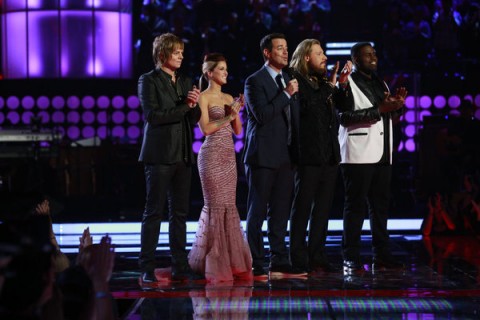 Here we go. Carson Daly sprung some big new information on us last night on The Voice Season 3. All season long we have seen two singers leave us on the live results show. With only four singers left, that means two more go home this week and two sing in the finale…right? Wrong! The Voice 2012 is all about changes and in previous seasons it has been one singer from each team in the finale, so four singers total. This season it is all about having the "best" singers left on the show for the finale, so teams don't matter and the two singers with lowest votes each week go home. Tonight it is only one singer, so we can have more performances to fill up The Voice Season 3 Finale time slot!

For my predictions, I think it is blatantly obvious as to who will go home tonight, but you never know how the complete voting went. If the iTunes rule is still in effect (many people have been complaining about the ten times multiplier rule and rumors say that it could be eliminated tonight), then we have a clear singer going home on The Voice 2012. At the time of writing this, Cassadee was at #1, Terry was at #2 and Nicholas was at #5 on the iTunes charts. Trevin made it to #34, which is still huge on it's own, but lacking if the other three all get their votes multiplied by ten!
Unless Trevin somehow managed to get a ton of votes the other voting methods, than I am saying he is going home tonight. To me, his performance lacked last night and I think that shows in his iTunes standings. I was bored and it didn't have the magic that he normally can bring to a song. I thought he was going home last week, but he survived. Tonight, I can't say the same thing. Trevin will be headed home and I think we will have a huge battle in The Voice Season 3 Finale next week with Cassadee, Nicholas and Terry!
Who are you predicting to go home tonight on The Voice 2012?
Join us on RealityRewind.com for all your The Voice Season 3 news, recaps, previews and predictions. Subscribe to our Email and RSS or like us on Facebook and follow us on Twitter for all our latest updates.
SHARE YOUR THOUGHTS! LEAVE A COMMENT NOW:
Commenting Rules:
Keep the conversation civil and on topic. If your comment does not add to the conversation or is insulting to others, it will be removed. Debate intelligently. No ALL-CAPS.