The Voice Season 3 Predictions: Who Gets Eliminated From The Top 12?
|
November 13, 2012 at 3:13 PM EDT
We saw the Top 12 take the stage last night on The Voice Season 3 live shows and for the first time, America has the final say. The singers performed and afterwards, America voted and the bottom two people in votes will be headed home! The Voice 2012 coaches (Blake Shelton, Adam Levine, Christina Aguilera and Cee Lo Green) have no say in the elimination tonight, which will see two singers head home. With the votes tallied, who was eliminated on The Voice Season 3?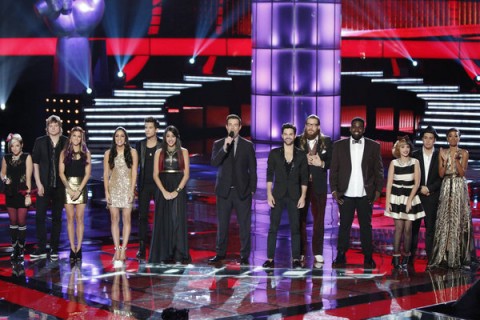 Was anyone else not impressed with a lot of the singers last night on The Voice Season 3? It seems like they all should have brought their A-games, but not many of them did. Like I have stated before, Team Christina has been a bore to me this season. They are all good singers and have strong voices, but that is it. Dez Duron is sexy, so the girls will vote for him and he will go far in the competition. Some others shocked me with their performances, but here are my The Voice Season 3 predictions for tonight.

For me, I think it will be a battle of the saves: Cody Belew, Adriana Louise, Melanie Martinez and Michaela Paige. The four of them didn't earn enough votes last week to stay in the competition, so their coaches saved them. Now a week later, did they do enough to remain on The Voice 2012? I thought Cody and Melanie did a great job and were very entertaining on the stage. I love Cody and think his personality is amazing, so I am saying he is safe tonight. Melanie brought back the indie charm and I think she is safe.
That leaves us with Adriana and Michaela. While I think both are strong performers, I think they lacked something this week and they didn't win over any votes. Those are my thoughts, but who do you think was eliminated on The Voice Season 3?
Join us on RealityRewind.com for all your The Voice Season 3 news, recaps, previews and predictions. Subscribe to our Email and RSS or like us on Facebook and follow us on Twitter for all our latest updates.
SHARE YOUR THOUGHTS! LEAVE A COMMENT NOW:
Commenting Rules:
Keep the conversation civil and on topic. If your comment does not add to the conversation or is insulting to others, it will be removed. Debate intelligently. No ALL-CAPS.