The Voice Season 3 Live Recap: Top 4 Elimination Results Show
|
December 11, 2012 at 7:00 PM EDT
We are one week away from finding out who wins The Voice Season 3, but in order to do that we have to get rid of one more singer on The Voice 2012. The four singers remaining on The Voice Season 3 are Cassadee Pope, Nicholas David, Terry McDermott and Trevin Hunte. They all sang their hearts out last night and after America voted we now find out who was eliminated on The Voice 2012. Come back later for my The Voice Season 3 Live Recap!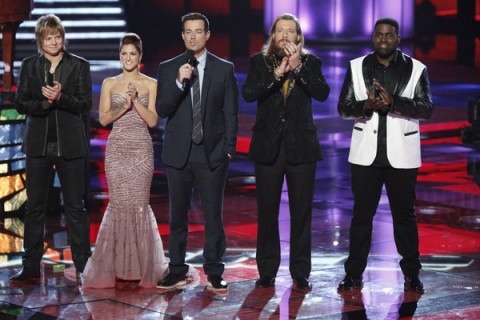 Last night on The Voice USA Season 3, it was a battle of Team Cee Lo versus Team Blake, as coaches Adam Levine and Christina Aguilera have both had their teams eliminated and now get to sit back and enjoy the performances like the rest of America. Shockingly, NBC only had the Top 4 on The Voice 2012 sing once last night. They cut the show down to one hour and made it a quick one, which I was not complaining about. We got to see some home visits by the Top 4 and then some amazing performances. They all did bring their A-game, well maybe Trevin didn't, but don't get me started on that one again.

Tonight it is all about The Voice Season 3 results and who will make it to the finale next week. For a change, we will only see one singer leave us this week and the Top 3 singers will fight for the title of The Voice next week. With an hour of show to fill, we will also get to see a Season 2 reunion as Juliet Simms, Chris Mann and RaeLynn all make a return to perform on the results show. We will also see some duets from the Top 4, so it is going to be jam-packed hour and you won't want to miss a thing. Come watch with me during my The Voice Season 3 Live Recap.
Things kick off tonight with, of course, a look back at the Top 4 from last night's. Which performance did you like most last night? Some words from the coaches, but let's get to it folks!
Time for the first music of the night, as Terry McDermott and Cassadee Pope take the stage for their duet. They sing "Little Talks" by Of Monsters and Men. Cassadee has some extensions going on in that hair tonight, but looks really good and this is a good song for them!
Up next will be the first person safe tonight…who do you think it will be? Before we get to those results we get our first reunion on The Voice 2012, as Juliet Simms takes the stage to sing her new single "Wild Child." She was the runner-up last season and I was a fan, but this song is too weird for me. What do you all think?
The Top 4 take the stage and we get our first results of the night. The first singer safe and moving on to The Voice Season 3 Finale is Terry McDermott from Team Blake! I love it. Are you excited?
RaeLynn won over Blake Shelton last season and even took her on the road and his wife Miranda Lambert took her on the road and now he returns tonight to sing her new single "I Want Your Boyfriend." Did anyone else think this was a little rough also? Her voice seemed to struggle at times or is it just me?
Another moment of The Voice Confessional, which is a cute thing. I like to see them thinking they are funny, which some of them are funny. Hey, did you want to see another singer from Season 2 before getting to the results? Alright, here is Chris Mann singing his single "Roads." Ugh, just give me results NBC!
Here we go folks…some more results. The remaining three singers take the stage and the next singer safe tonight and moving on to the finale next week is Cassadee Pope, so Team Blake is safe tonight. We are down to Trevin and Nicholas. Who will move on?
Before they get their results, we get to see Trevin and Nicholas sing one more time together. The Team Cee Lo duet is "Hero" by Mariah Carey. This one was clearly picked for Trevin's benefit, but also because they know he will be leaving soon?
Time for the final results, as Trevin Hunte and Nicholas David take the stage. This is it folks…one goes home and one moves on to next week. The last singer safe tonight is Nicholas David! That means Trevin Hunte is eliminated on The Voice Season 3.
The Final 3 on The Voice Season 3 are Cassadee Pope, Terry McDermott and Nicholas David! You like those results?
Join us on RealityRewind.com for all your The Voice Season 3 news, recaps, previews and predictions. Subscribe to our Email and RSS or like us on Facebook and follow us on Twitter for all our latest updates.
SHARE YOUR THOUGHTS! LEAVE A COMMENT NOW:
Commenting Rules:
Keep the conversation civil and on topic. If your comment does not add to the conversation or is insulting to others, it will be removed. Debate intelligently. No ALL-CAPS.