The Voice Season 3 Live Playoffs: Amanda Brown Live Playoff (VIDEO)
|
November 6, 2012 at 12:31 AM EDT
It was time for the Top 20 to take the stage on The Voice Season 3, as the live shows kicked off and America finally gets to makes some decisions on The Voice 2012. Tonight it was all about Team Blake and Team Adam, as they took the stage to fill the three spots on each team for the Top 12 on The Voice Season 3. One of the highlights tonight was Amanda Brown live playoff on The Voice Season 3.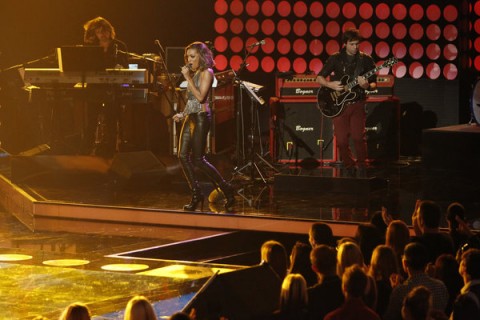 Amanda Brown on The Voice Season 3 started out when Cee Lo Green was the only coach to turn around for her during the Blind Audition. She then proved herself in the Battle Round against Trevin Hunte, but Cee Lo picked Trevin and the other three coaches were fighting to steal her. She went with Adam Levine and Team Adam. She has been a strong performer and her voice is so good. Amanda Brown The Voice is someone to watch out for.

That continued tonight on The Voice Season 3, as Amanda took the stage for the live playoffs. She is part of the Top 5 on Team Adam and she sang "Dream On" by Aerosmith. She wants to show a more rock side to herself, which she was very successful in doing. You can check out the Amanda Brown Dream On video below and tell me your thoughts.
It was a strong night on The Voice 2012 and we only saw Team Adam and Team Blake. Wednesday night we will see Team Christina and Team Cee Lo take the stage and then the results will be delivered on Thursday night. Who do you think will make it to the Top 12 on The Voice Season 3?
Join us on RealityRewind.com for all your The Voice Season 3 news, recaps, previews and predictions. Subscribe to our Email and RSS or like us on Facebook and follow us on Twitter for all our latest updates.
SHARE YOUR THOUGHTS! LEAVE A COMMENT NOW:
Commenting Rules:
Keep the conversation civil and on topic. If your comment does not add to the conversation or is insulting to others, it will be removed. Debate intelligently. No ALL-CAPS.