The Voice Season 3: Cassadee Pope Top 8 Performance (VIDEO)
|
November 26, 2012 at 10:56 PM EDT
We are down to the Top 8 on The Voice Season 3 and one of the front runners all season long has been Cassadee Pope. She delivered another solid performance on The Voice 2012, as she took on a Michelle Branch song. Last week it was all about sing her The Voice coach Blake Shelton's song that he wrote. The Voice Season 3 will see another two singers eliminated this week, but I think Cassadee Pope will be safe.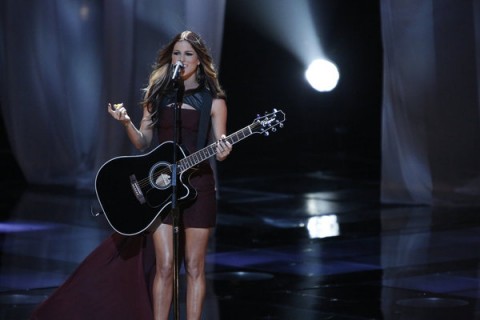 Cassadee Pope hit the number one spot last week on iTunes after her performance of "Over You" by Miranda Lambert. The song was written by Blake Shelton and is a very personal song for Blake and Miranda, but Cassadee nailed that performance and she needed to be strong again this week. She took on Michelle Branch and her song "Are You Happy Now." She did a great job singing it, but I was a little disappointed by the performance though. You can check it out below and tell me for yourself.

I don't think Cassadee needs to have any concern about being sent home on The Voice Season 3. She has a hug fan base and I don't think they are going to not support her after this performance. It was not bad, I just wasn't that impressed with her as I have been in the past on The Voice 2012. I think she may win it all this season, but that is just seeing how many Twitter followers this girl has…good lord!
Give me your opinion though. Check out Cassadee Pope on The Voice Season 3 Top 8 live performance show and were you impressed or a little bored like me?
Join us on RealityRewind.com for all your The Voice Season 3 news, recaps, previews and predictions. Subscribe to our Email and RSS or like us on Facebook and follow us on Twitter for all our latest updates.
SHARE YOUR THOUGHTS! LEAVE A COMMENT NOW:
Commenting Rules:
Keep the conversation civil and on topic. If your comment does not add to the conversation or is insulting to others, it will be removed. Debate intelligently. No ALL-CAPS.