The Voice Season 3: Cassadee Pope Top 10 Performance (VIDEO)
|
November 20, 2012 at 12:22 AM EDT
The Top 10 took the stage tonight on The Voice Season 3 and to be honest, it was a great show! It started a little slow for me, but after the first couple performances it was nothing but uphill from there on The Voice 2012 Top 10 performance show. One of the highlights tonight was Cassadee Pope taking on such a personal song for her coach Blake Shelton. You can see the video below of the Cassadee Pope Top 10 performance on The Voice Season 3 tonight.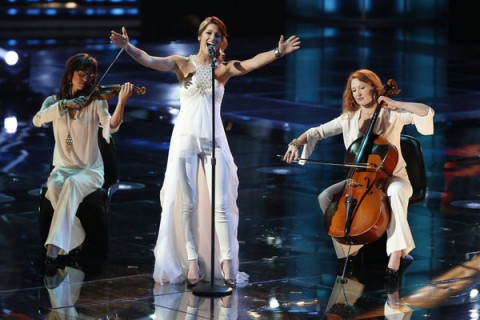 For her Top 10 performance, Cassadee Pope decided to show off a different side of her singing ability. She has shown a more pop rock kind of feel all season long, but tonight she wanted to slow things down and show a more emotional side to her vocals and she was very successful. While doing so, she took on a song that means a lot to her coach. Blake Shelton wrote the song "Over You" with his wife Miranda Lambert and they have won many awards for that song.

While it is always tough for anyone to sing a song by his wife, this one was especially tough for Cassadee. She took it with stride and shined during her performance. You can be the judges for yourself in The Voice Season 3 video below, but I think you will be impressed. We get to see a new Cassadee Pope and one that Adam Levine said he would like to see more of. Could Cassadee possibly follow down a road of singing country songs? Check out the video and I think it could be a strong possibility!
Join us on RealityRewind.com for all your The Voice Season 3 news, recaps, previews and predictions. Subscribe to our Email and RSS or like us on Facebook and follow us on Twitter for all our latest updates.
SHARE YOUR THOUGHTS! LEAVE A COMMENT NOW:
Commenting Rules:
Keep the conversation civil and on topic. If your comment does not add to the conversation or is insulting to others, it will be removed. Debate intelligently. No ALL-CAPS.