The Voice Season 3: Cassadee Pope and Dez Duron Performance (VIDEO)
|
November 28, 2012 at 12:05 PM EDT
It was time to find out the results on The Voice Season 3 last night and before the Top 8 went to the Top 6, we got to see a performance by Cassadee Pope and Dez Duron. The two took the stage during The Voice 2012 results show and sang the Rihanna and Ne-Yo song called "Hate That I Love You." You can check out the Cassadee Pope and Dez Duron performance on The Voice Season 3 below.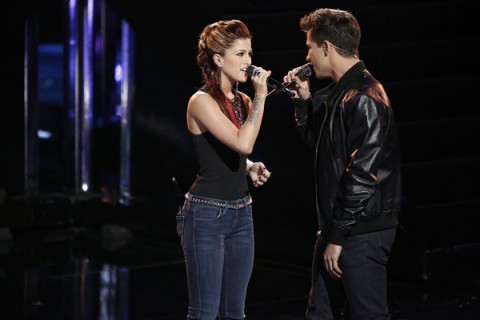 Cassadee Pope has been a shining star on The Voice Season 3 and has a fan following which may lead her to a victory this season. She started out in a band and left them in the dust in order to follow a solo career. She chose Blake Shelton as her coach, which shocked many, but they have made a strong connection and he has helped her become a front runner and she may possibly bring back-to-back wins for Team Blake.

Dez Duron tried out for Season 2 of The Voice, but he never got any chairs to turn around during his Blind Audition. He didn't let that ruin his dreams and he came back again for The Voice Season 3. This time he had three coaches turn around and he decided to go with Christina Aguilera. He was the last singer standing for Team Christina this season and by the time the show ended, he was sent home and Team Christina was eliminated from The Voice Season 3.
Cassadee and Dez took the stage before the results were announced and sang "Hate That I Love You." They are both good-looking indivudals, so do you think this performance may have sparked the rumors that Cassadee and Dez may be dating? Check out their performance here:
Join us on RealityRewind.com for all your The Voice Season 3 news, recaps, previews and predictions. Subscribe to our Email and RSS or like us on Facebook and follow us on Twitter for all our latest updates.
SHARE YOUR THOUGHTS! LEAVE A COMMENT NOW:
Commenting Rules:
Keep the conversation civil and on topic. If your comment does not add to the conversation or is insulting to others, it will be removed. Debate intelligently. No ALL-CAPS.