The Voice Christina Aguilera Sings Duet With Contestant Sera Hill, Video
|
February 28, 2012 at 11:53 AM EDT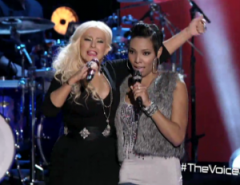 The Voice Christina Aguilera sings duet with contestant Sera Hill, video below. Last night, contestant Sera Hill didn't just land the final, coveted spot on Christina Aguilera's The Voice team. She also got the opportunity to perform alongside her new coach! Hill auditioned with "I'm Going Down," and her performance led Aguilera to finally hit her button and Hill's parents to scream and jump around while backstage with Carson Daly.
But the real excitement came when Aguilera got out our her seat and joined Hill onstage for an impromptu duet. Hill was visibly in shock that her idol was belting it out, and seemed to struggle to sing along rather than stare at Aguilera. It was a wonderful moment, and I'm willing to bet Sera Hill will make it far beyond the battle rounds.
SHARE YOUR THOUGHTS! LEAVE A COMMENT NOW:
Commenting Rules:
Keep the conversation civil and on topic. If your comment does not add to the conversation or is insulting to others, it will be removed. Debate intelligently. No ALL-CAPS.