The Voice' Christina Aguilera Called A Total Bitch By The Wanted, Video
|
April 27, 2012 at 11:19 PM EDT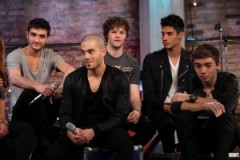 The Voice' Christina Aguilera called a total bitch by The Wanted, video below. In an interview with morning host, Sarah Lee, The Wanted voiced their opinion on Christina Aguilera and the judgement is not good. The guys have performed on both American Idol and The Voice. On Idol, Max George jumped off the stage to give a little hug and a kiss to judge Jennifer Lopez.
When asked why he didn't do that to Christina Aguilera on The Voice, Max replied, "She's was bit scary, to be honest." Tom Parker jumped in to add, "She's a total bitch. What? She's a bitch!" When pressed, he added, "She might not be a bitch in real life but to us she was a bitch. She just sat there and didn't speak to us. Wouldn't even look at us."The other guys made light of his comments and Nathan Sykes jumped in to remind them of how Christina appeared to diss Justin Bieber after his appearance as well, by acting out how she pulled away from his attempted hug.
 The interview turned back to Max, who was asked what he was thinking when he jumped off the stage on Idol and kissed Jennifer Lopez. "Yeah well J-Lo's hot. Christina's nothing special so…" His comments elicited a round of "oohs" from band members and the audience.
SHARE YOUR THOUGHTS! LEAVE A COMMENT NOW:
Commenting Rules:
Keep the conversation civil and on topic. If your comment does not add to the conversation or is insulting to others, it will be removed. Debate intelligently. No ALL-CAPS.