The Voice 2012 Juliet Simms Sings "Freebird" Despite Sickness, Video
|
May 8, 2012 at 12:56 AM EDT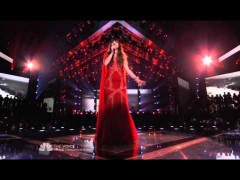 The Voice 2012 Juliet Simms sings "Freebird" despite sickness, video below. Simms belted Lynyrd Skynyrd's "Free Bird" tonight, and couldn't have done better.  Adam Levine said, "What you do is just so incredible … No one sings like you."
Meanwhile, Christina Aguilera commended her on singing while sick. "You were amazing," Christina declared. And Cee Lo declared, "With Juliet Simms on my team" — pointing to his shirt — "I have no problems."  Juliet worked very hard to keep her voice on key and smooth though she was ill. This can occasionally serve a singer detrimentally, compromising their tone. For Juliet, tonight highlighted exactly who she is in this competition, aside from being the only girl. She is the only contestant with any legitimate, to quote Levine, "grit." This performance was all grit,
SHARE YOUR THOUGHTS! LEAVE A COMMENT NOW:
Commenting Rules:
Keep the conversation civil and on topic. If your comment does not add to the conversation or is insulting to others, it will be removed. Debate intelligently. No ALL-CAPS.