The Voice 2012 Juliet Simms Has Her Shining Moment During Semi-Finals, Video
|
May 1, 2012 at 1:17 AM EDT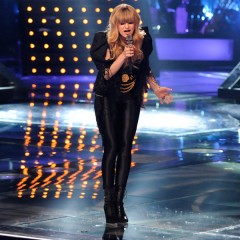 The Voice 2012 Juliet Simms has her shining moment during semi-finals, video below. Simms closed the show with "This Is A Man's World," and brought out the stage presence and flashy get-up, but tonight she definitely proved to be one of the frontrunners and one of the best of the night apart from Katrina Parker.
Last week I put down Simms performance because I felt that she could have done better, and was too over the top with her shrieking. This week, though, there is little to put down because she did her best. Her best, thankfully was amazing. I think tonight's show went to Simms and Parker.
SHARE YOUR THOUGHTS! LEAVE A COMMENT NOW:
Commenting Rules:
Keep the conversation civil and on topic. If your comment does not add to the conversation or is insulting to others, it will be removed. Debate intelligently. No ALL-CAPS.