The Voice 2012 Eliminates Mathai And Cheesa Laureta
|
April 24, 2012 at 10:43 PM EDT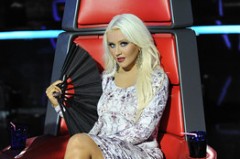 The Voice 2012 eliminates Mathai and Cheesa Laureta. For team Adam, America saved  Tony Lucca, but Katrina and Mathai have to sing-off for Levine's save. Over to team Cee Lo, Jamar is saved by American while Cheesa and Juliet had to performed for Green's save.
When it came to the sing-off, on team Adam, Mathai belted a shrilly version of "Cowboy Casanova" while strutting across the stage. The spark we all saw in Mathai has unfortunately faded. She no longer posseses the commanding presence she had in the beginning with her "Rumor Has It" original audition. Blake said she embraced her hillbilly side, and CeeLo said it was very sweet but showed aggression.Katrina performed a sultry version of "Perfect" from Pink. Blake said Katrina is the best singer and Christina said she's really great. Blake and Christina choose Katrina for the win, Cee Lo chooses Mathai, out of pity I'm assuming. Adam mentioned Mathai's spark and energy where Katrina blew him away with her "Jar of Hearts" song on Monday. Adam takes a really really long time, which does not bode well for Cee Lo later on in the show in terms of time.  He sent Mathai home because she had yet to exploded with "her moment".
The sing-off on team Cee Lo:  Cheesa sang Kelly Clarkson's "Already Gone", which was very weak throughout the song, with the exception of one on-tune note at the end. Everyone says that she was really good yesterday and it's too bad she can only belt the big notes and can't stay on pitch for the low ones. Juliet sang "Torn" by Natalie Imbruglia and I was not impressed. At one point she seems to stomp over and screech the lyrics at the audience.
Blake said she was an acquired taste. Christina said the softer tone isn't working for her. When it comes down to the wire all the judges pick Juliet. Then Cee Lo makes them smile, which is just annoying.  Cee Lo stated that Cheesa sounds classically trained but Juliet's voice is like art imitating life and life isn't perfect. He said America is invested in Juliet (although they didn't save her, ahem.)   He boots Cheesa.
SHARE YOUR THOUGHTS! LEAVE A COMMENT NOW:
Commenting Rules:
Keep the conversation civil and on topic. If your comment does not add to the conversation or is insulting to others, it will be removed. Debate intelligently. No ALL-CAPS.