Subscribe to Reality Rewind:
March 5, 2012
The Voice 2012 Battle Round First Look Video, Angie vs Cheesa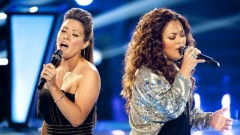 The Voice 2012 battle round first look video, Angie vs Cheesa. Are you ready for the battle rounds to begin tonight on The Voice? Thanks to NBC, you can get a first look below. Angie Johnson and Cheesa belt out their best renditions of "Total Eclipse Of The Heart". The battle rounds are really what matters, because one bad note can ruin your chances.
Check out the video below to see Angie and Cheesa vie for one of the final spots on Cee-Lo Greens' Voice team. Other singers will be battling for final spots on the teams of Christina Aguilera, Blake Shelton, and Adam Levine, as well.
Like us on Facebook by clicking here. Follow us on Twitter by clicking here.