The Biggest Loser 2013 Recap: Season 14 Premiere Part 2
|
January 7, 2013 at 7:01 PM EDT
The two-night premiere of The Biggest Loser 2013 continues tonight on NBC and it is time to find out who is serious about losing the weight on The Biggest Loser Season 14. Jillian Michaels, Bob Harper and Dolvett Quince are all ready to kick these contestants into shape, but will any of them hit their breaking point again tonight. I have my Kleenex ready, so it must be time for another episode of The Biggest Loser 2013 Season 14. Come watch with me tonight to find out who was eliminated on The Biggest Loser NBC during my The Biggest Loser 2013 recap.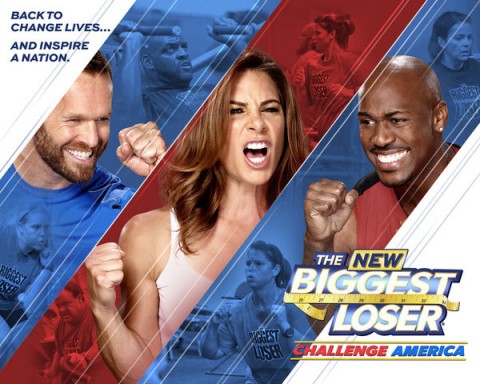 Last night on The Biggest Loser Season 14 premiere, we saw the return of Jillian Michaels as a trainer after a break from her for two seasons. We also got a chance to get a brief look at the first child contestants. They are tackling childhood obesity this season on The Biggest Loser and they have brought on three kids to help focus on that issue. They only spent one week on the ranch and then headed home, but they'll be back throughout the season. We also saw two contestants head home, both from Jillian's White Team, as Nikki couldn't hang and left on her own and then when they lost the weigh-in, TC was automatically sent home after losing the lowest weight percentage!

Tonight the White Team has to prove themselves, especially with only three members left on their team. After losing two people, I am thinking Jillian Michaels is not going to be a happy camper tonight. Come back to find out during my The Biggest Loser 2013 recap at 8/7c!
We start with the White Team chatting and knowing they are in danger, but they are determined to win! Alison Sweeney said it will be another Red Line, so the lowest percentage goes home again this week! The contestants are freaking out! The trainers have all designed their own workout areas, so the contestants get to see where they will be working out now.
The Red Team heads to Dolvett's Dungeon and Jackson has been told he can only run medically, so he is worried about the dungeon. There seems to be nothing in Jillian's workout area, so her team is worried. The Blue Team is working it out and having troubles breathing and Michael comes close to passing out! David hurt his knee on the treadmill before, so he is worried about going full strength and not going home this week on The Biggest Loser Season 14. Danni and Pam are falling apart for the White Team and Jillian isn't having any part of it. Jillian gets down with Pam and they have a moment. A very special moment and makes me like Jillian!
The contestants meet with the doctor and he scares the hell out of them all: Jackson stopped his breathing for 41 seconds while sleeping, Pam's liver is fatty and Gina has diabetes and needs to lose weight. Mike's arteries are basically the arteries of a 78 or 80-year-old man!
Jillian sits down with her team and tries to figure out what is going on with them all. She thinks Nathan did a great job, so he is not a part of this conversation. Why are they on The Biggest Loser Season 14? Pam wants to finally finish something and Danni wants to feel confident walking out the door every morning.
It is challenge time on The Biggest Loser Season 14. They are joined by Alison Sweeney and NFL player Antonio Gates. Biingo, Sunny and Lindsay join the contestants again for the challenge. BTW, Joe is on crutches right now. I guess his knee is hurting. For the challenge, it is broken down into four quarters and it tests their strength and agility in an obstacle course. The winning team gets a visit from their favorite NFL player for their child contestant and $5,000 for their school. Pam is not cleared to participate, so it is on Nathan and Danni to compete for the White Team.
First quarter is all about speed and White Team leads with 48 seconds then Blue Team with 50 seconds and Red Team with 54 seconds. Second quarter is all about agility and Danni wins it again for the White Team. Times now are White Team with 1:34, Red Team with 1:41 and Blue Team with 1:41. The third quarter is all about strength and Blue Team wins it. The times now are White Team with 2:05, Blue Team with 2:09 and Red Team with 2:57. The fourth quarter is on and it is a tight battle. The final scores are Blue Team with 3:52, Red Team with 3:40 and White Team with 3:01, so they win back-to-back challenge, even though they only had two contestants!
All the contestants know of the second week jinx on The Biggest Loser 2013, which their body loses so much weight the first week and then plateaus. Now they are all working extra hard to not be a part of that jinx. Jillian is taking a calm approach with her team and it seems to be working, as they are going good. Pam wants to quit, but stays strong and completes the exercises!
Time for the kids to be put to the test and Biingo comes in with a fractured foot while playing basketball. They will do the fitness test now and again at end of the season to see their progress. They start with sit-ups for one minute As more events are taken on, these kids are way below the national average of kids their age. You can see the kids glow in their eyes!
Last Chance Workout and Jillian has her team workout with Bob Harper to show that the other trainers are harder than her. They all work hard and the White Team is feeling confident going into the weigh-in. David has the hurt knee, so he might be going home. Bob and Jillian switch from bad cop and good cop….it is funny to see!
The contestants are finishing up their workouts on Last Chance Workout and they are all feeling confident. Time for ice and food and then the weigh-in on The Biggest Loser 2013! Blue Team is first: David (on crutches) lost 9 pounds, Gina lost 7 pounds, Alex lost 6 pounds, Michael lost 14 pounds and Jeff stayed the same after his 29 pound loss last week! The Blue Team lost 36 pounds and 2.35%.
The Red Team is next: Cate lost 5 pounds, Francelina lost 6 pounds, Jackson lost 4 pounds, Joe lost 12 pounds and Lisa 5 pounds. The Red Team lost 32 pounds total and 2.38%, so they are safe this week. White Team is the last to go: Pam lost 9 pounds, Danni lost 5 pounds and Nathan lost 5 pounds. The White Team lost a total of 18 pounds total and they lose again. They have won every challenge, but lost both weigh-ins! Nathan is the lowest percentage and he is eliminated from The Biggest Loser 2013! The White Team is down to just two contestants now. Will they come back or keep losing?
Join us tonight on RealityRewind.com for my The Biggest Loser 2013 Recap. Let's find out together who was eliminated on The Biggest Loser Season 14! Subscribe to our Email and RSS or like us on Facebook and follow us on Twitter for all our latest updates.
SHARE YOUR THOUGHTS! LEAVE A COMMENT NOW:
Commenting Rules:
Keep the conversation civil and on topic. If your comment does not add to the conversation or is insulting to others, it will be removed. Debate intelligently. No ALL-CAPS.