The Biggest Loser 2013 Recap: Season 14 Premiere Kicks Off
|
January 6, 2013 at 7:00 PM EDT
The time has come: The Biggest Loser 2013 premiere kicks off tonight and we get to meet the 15 new contestants vying for the $250,000 prize and most important part is learning to live a healthier lifestyle on The Biggest Loser Season 14. We also get to see the return of Jillian Michaels on The Biggest Loser 2013! Who is pumped for that one? Bob Harper and Dolvett Quince are back as well and Alison Sweeney will serve as the host again. Come back for my The Biggest Loser 2013 premiere recap and find out who was eliminated on The Biggest Loser Season 14!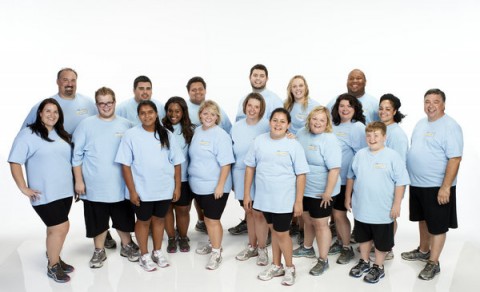 We will see 15 new contestants taking their chance at losing the most weight and body mass and winning The Biggest Loser 2013. The 15 contestants will be broken up into three teams of five players each. The big change this season is of course the addition of child contestants on The Biggest Loser Season 14. That's right, kids will be joining in all the fun this season. Some people have bitched about kids being on the show and it is dangerous for them or a bad environment, but they will not be participating in the weigh-ins or the eliminations, so they are there to learn some new tricks and focus on childhood obesity.

The three child contestants will serve as more mascots for the three teams and participate in the exercises and learning of new eating habits. In the end, one of the adult contestants will win the $250,000 prize on The Biggest Loser 2013. Join me tonight for my The Biggest Loser 2013 Premiere Recap and meet the new cast with me!
The season kicks off with Alison Sweeney bringing out the child contestants, who are Sunny (16 years old), Noah (13 years old) and Lindsay (13 years old). They will be ambassadors for change in America and it brings a tear to my eye. This show will be the death of me! Noah likes to be called Biingo, so we will call him that. They will send some time at the ranch, but will spend most of their time working out at home and the trainers will be checking in on them and no eliminations!
Time for the trainers to come out and first it is Bob Harper then Dolvett Quince and then the mother of all weight loss, Jillian Michaels. Bob is working with Biingo, Dolvett is working with Lindsay and Jillian is working with Sunny. Fifteen people in the audience will be invited to be a part of The Biggest Loser 2013. The cast will be: Michael (34 years old and 444 pounds), Lisa (36 years old and 246 pounds), Jackson (21 years old and 328 pounds), Nathan (25 years old and 359 pounds) and then we rush through the rest of the contestants until we are down to the final contestant. The last person on The Biggest Loser Season 14 is TC, who had the touching story with his son getting injured in a car accident because his seat crushed him. I probably won't stop crying this whole season!
Time for the contestants to arrive at The Biggest Loser Ranch and they get divided into teams: White Team (Jillian's Team – TC, Nathan, Nikki, Pam and Danni), Red Team (Dolvett's Team – Francelina, Joe, Lisa, Jackson and Cate) and Blue Team (Bob's Team – Michael, David, Jeff, Gina and Alex). Alex has all her makeup on and the trainers are joking on making that run off her face.
They head into the gym, the place where they will be killing themselves for the next few weeks. Planet Fitness has provided the equipment and they all will get free memberships to their gyms, which is awesome. Dolvett starts with the kids and Bob and Jillian help out with his team. They all get on the treadmills and Jillian says every time they touch the treadmill she will add five minutes on to their two-hour workout! She ain't messing around folks.
Dolvett starts working with the kids and they play softball and just try to keep them active. They will only be there for one week and he wants to instill in them the stuff they need to live a healthy life.
Back in the gym and the contestants are struggling, as TC is breathing heavy and Nathan falls off the treadmill. Jackson falls off the treadmill and seems to be passed out! They are all hot messes and can't run on the treadmill for 20 seconds. Jillian is not happy!
We get to meet Gina and she seems to have a good life, but she is worried about her weight so much and leaving this life and her husband remarrying. Meanwhile, everyone keeps falling off the treadmills and Jillian tells him to get his sorry ass up. Nathan gets up and falls down again. Jillian kicks him out. She may be tough, but it is only 20 minutes in to their first workout on The Biggest Loser Season 14.
Jackson is now being taken care of by medics and Dolvett comes in and Bob goes to work with the kids. Everyone is puking and passing out and Dolvett loves it. Pam says this is worth than child birth. TC doesn't know if he can do this and he is crying and Jillian is in his face. He tries again and falls again and Jillian kicks him out again….this is intense! Who wants to join them on The Biggest Loser gym?
Michael is the heaviest contestant on The Biggest Loser 2013 and is struggling with all of his 444 pounds. Nikki is struggling in the gym and Jillian said she could send her home and give her excuses to tell her friends. She wants to be a mother, but at the weight she is at right now she can't do it. Everyone is cheering everyone on right now, but wait until it comes to elimination time!
They all survived the first day of the workout and now time to talk to their trainers. Jillian says she has three people on her team that can't hang and want to know if they are there to make changes and if no changes than she will ask them to leave at the end of the week!
Jillian now sits down with the kids and she is a nice woman. Who would've thought??? She tells them she relates to the kids and was where they were at one time. It was cute to see and I so want to see these kids survive.
Back at the ranch, everyone is feeling tired. Nathan and Cate talk and Nathan feels bad about falling off the treadmill. Do we have our first love connection on The Biggest Loser Season 14? Nope because she has a girlfriend he wants to propose to! It was a very good moment and it may have inspired Nathan to work harder. Nikki is feeling isolated and not expecting the feeling of being so isolated…will she be leaving?
Time for the first challenge of The Biggest Loser 2013. They will have to go into a ball pit and find tiles with their team colors and will spell out "The Biggest Loser." The kids will be up top guiding their team members to the correct letters. Biingo is nervous to go up there. The winning team will get a five-pound advantage in the weigh-in.
The Red Team sends out their slowest first, so Jackson is out. The White and Blue both get a tile back and Red Team is a little behind. The Blue and White Team are battling for first place and the Red Team is struggling. The White Team has one letter left and then the Blue Team heads in for their last letter. Danni gets the last letter and rings the buzzer and they win the five-pound advantage! They had three members not complete their workout the day before so they need that advantage.
The kids will be heading home for a little while, but before they go home they each get a bike and iPad to communicate with their trainers. They will be back from time to time though to participate in challenges and events.
Back in the gym and Jillian said she is going to beat the shit out of the three that couldn't make it the first day and Nikki is worried about facing Jillian. She has been struggling emotionally and can't handle her. Meanwhile, Jackson is rowing and ten minutes in and he throws up everywhere. He gets back up and is staying strong, even though he is being weak for the Red Team.
Gina is feeling like she has a target on her back because she is the oldest and the weakest, or so she feels. Bob tells her that is confident, strong and smart and she can do this. TC feels like he is beast mode now and he wants this thing. Nathan and TC kicked ass and Jillian is happy today. TC feels like a new man and he is washing off things and not even sure what it is. Nikki seems to have lost the drive and now she is working with Jillian. Nikki breaks down and starts crying and said she wasn't ready for the emotional side of things. Jillian tells her it is either the door or the workout. Which do you think Nikki will choose on The Biggest Loser NBC?
We come back and Nikki said she is going to take the door! Why do you even come to the show and then leave this early??? Jillian tells her team and said she can't help someone that doesn't want help. Pam is upset over it, but knows she is here for her. Bob said she is going to come back, but Jillian said she won't. Nikki does leave, but says she will do it at home and see a therapist to get things done.
Time for the first weigh in on The Biggest Loser 2013! On a side note, doesn't Alison Sweeney look good? There will be a red line tonight. The person with the lowest percentage of weight loss on the losing team is automatically eliminated! There is no vote or discussion. Things just got real.
White Team goes first with their five pound advantage. TC is first and he is down 15 pounds. Pam is next and she is down 10 pounds. Nathan is down 20 pounds and Danni is down 19 pounds! That is a total of 69 pounds and a 5.61%. The Red Team is next and Lisa is down 16 pounds. Jackson is down 22 pounds (he did puke a lot)! Francelina is down 19 pounds, Cate is down 12 pounds and Joe is down 26 pounds! That is a total 95 pounds and 6.59%, so they are all safe for the week.
Time for the Blue Team and Jeff is down 29 pounds. Michael, starting at 444 pounds, is down 21 pounds. He is not happy with 21 pounds, but it is 21 freakin' pounds! David is down 20 pounds and Alex is down 9 pounds. With one more person to go, they must lose 12 more pounds to not face elimination on The Biggest Loser 2013. Gina heads up there and she is down 15 pounds! The Blue Team is safe, so one person from the White Team will be heading home.
Now it is down to the White Team and see who is eliminated on The Biggest Loser Season 14. The person with the lowest percentage of weight lost during the first week is Danni and Nathan are safe, so it is down to TC and Pam. The first person eliminated on The Biggest Loser Season 14 is TC! He feels he is leaving too soon, but can he keep it going?
Join us tonight on RealityRewind.com for my The Biggest Loser 2013 Recap. Let's find out together who was eliminated on The Biggest Loser Season 14! Subscribe to our Email and RSS or like us on Facebook and follow us on Twitter for all our latest updates.
SHARE YOUR THOUGHTS! LEAVE A COMMENT NOW:
Commenting Rules:
Keep the conversation civil and on topic. If your comment does not add to the conversation or is insulting to others, it will be removed. Debate intelligently. No ALL-CAPS.