The Biggest Loser 2013 Recap: Episode 8 – Contestants Clash
|
February 18, 2013 at 7:05 PM EDT
We are down to the final seven contestants on The Biggest Loser 2013 and one of the things I enjoy about this season is that the contestants all seem to get along and there hasn't been a whole lot of drama among them on The Biggest Loser Season 14. It looks like that is all about to change tonight on The Biggest Loser 2013 as two of the contestants clash during the week. Will that change the mood on The Biggest Loser ranch? Find out during my The Biggest Loser 2013 Recap and see who was eliminated on The Biggest Loser Season 14 tonight!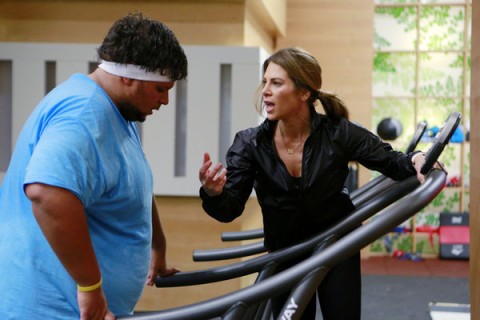 The contestants started competing as individuals last week on The Biggest Loser 2013 and the teams were no more. The Biggest Loser trainers were still there to work them hard, but now they were free to take anyone they wanted to make them sweat. The contestants faced a temptation challenge with cakes and sweets, but with a two-pound advantage at weigh-in also involved. Francelina won the two-pound advantage, but then lost the weigh-in and faced Michael for the vote. They voted Michael off and saved Francelina for one more week.

Tonight they face an immunity challenge from hell, as they try to lose 70 pounds among them for the week and all be immune from going home this week. That is an average of ten pounds per person, so not an easy task. They will be working together to achieve the goal, but do you think they can accomplish it? Find out during my The Biggest Loser 2013 Recap tonight.
Here we go…the players come back and Jeff explains the way he voted and that Francelina inspired her more than Michael did, even though he said he would never vote for Michael! Not a strategy? Francelina thanks everyone for keeping her there.
The contestants head to the gym and Alison Sweeney is there with a podium and tells them they can win immunity for everyone. If they lose 70 pounds as a group they are all safe for one more week. If they don't, it is a Red Line and the lowest person goes home immediately!
They can lower that number with a pop culture challenge with Lindsay, Sunny and Biingo. The kids will answer five questions and every one right the weight is lowered one pound. Then they will do the fitness challenge and if they beat their previous time they get another pound off and there will be five exercises to do.
The child contestants get started with the questions and they get the first two questions right and get two pounds taken off, but then get the third one wrong. They come back and get the final two questions right, so they got four pounds taken off so far.
The fitness part is next and up first are sit-ups and Biingo thinks he can do better. He did 18 the first time and 35 now, so another one pound advantage. Chin ups are next and Lindsay does them: 37 first time and 79 now. Push-ups: 23 first time and 32 now, so another pounds off. The mile is last and Sunny did it in 13 minutes the first time. Sunny was on White Team first time, so Danni runs with her to motivate each other. She wanted to do it under ten minutes and gets 9:59!!! That is a total of nine pounds taken off, so they must lose 61 as a group, which is what they did last week on The Biggest Loser 2013!
The contestants head to the gym and start working on getting those 61 pounds off. Gina is now coming up with more excuses and she has new shoes and can't run. Dolvett tells her to keep going and Joe has a smartass remark and that sets Gina off and she quits and walks out!
Dolvett follows her out and Gina said it is not Dolvett, but Joe and he is an asshole. Dolvett said she is using it as an obstacle and she agrees to go back, but work privately with Dolvett…give me a break! Jillian then pulls Alex aside and thinks she is slacking. She wants five minutes of running and Alex can't. She sees everyone quitting today, so she asks Gina to do it and she quits too, which sets Jillian off and Gina is over it and walks out again! The Biggest Loser trainers get into it and Jillian is over it for the day as well.
Jillian heads to the house to talk to Alex. She feels she is selling herself short and they need to get to the bottom of why she is doing this. Jillian breaks through and Alex feels she is never good enough, so why even try. Jillian tells her she will do it for her because she needs to do what is best for her.
Gina talks with Bob and basically she is setting herself up for self-sabotage because she is afraid to win. Gina said she is ready to go, but why when she has the best numbers in the house?
Time for the challenge of the night and they will get to take an additional ten pounds off that 61 pound total. For the challenge, they have sand hills with either a red X or a green arrow buried in it. The point is to find the green arrow, which will point them to the next sand hill to go to. Get all five green arrows in 30 minutes and raise the flag at the end of the pier and get the ten pound advantage.
Gina's strategy is to not get in the way! What? They are ten minutes in and found the first arrow and they need to finish in 30 minutes? They get the next two pretty quick and then Danni misses the sand and knocks her ankle real hard! They get the arrows all found and grab the flag and head to the finish line with less than two minutes to go! Gina then falls and hurts her hip! Joe helps her up and they all start booking to the finish line, which they somehow make it to with five seconds remaining. They get the ten pound advantage and will need to lose 51 pounds now for everyone to stay. Can they do it?
Jared from Subway comes in at the ranch and brings subs and tells them his story of keeping the weight off for 15 years now! He brings good news and the winner of The Biggest Loser 2013 will get to star in a Subway commercial with Jared!
On what is normally Last Chance Workout, the players head to the top of the mountain to meet the trainers and have huge beams around them and they will be working on some team-building skills. The teams are Jeff and Francelina, Danni and Jackson, Alex and Jillian and Joe and Gina.
Bob and Dolvett get things started and Bob is terrified of heights. The teams all work it out, but of course we have to get a scene from Gina and I am over her. Anyone else?
Time for the weigh-in and they have to lose 51 pounds total as a group or they face a Red Line and the lowest percentage weight loss goes home immediately.
The first person is Danni and she lost 7 pounds, Joe lost 6 pounds, Jackson lost 5 pounds (18 pounds so far for the group), Alex lost 3 pounds, Jeff lost 4 pounds (that is 25 pounds total), Gina lost 4 pounds and Francelina lost 2 pounds. As a group they lost 31 pounds total, so they did not meet their goal and the lowest percentage tonight is Francelina!
Jeff and Francelina are officially dating she tells us, so I swear people find love more on The Biggest Loser than they do on The Bachelor or The Bachelorette!
Join us tonight on RealityRewind.com for my The Biggest Loser 2013 Recap. Let's find out together who was eliminated on The Biggest Loser Season 14! Subscribe to our Email and RSS or like us on Facebook and follow us on Twitter for all our latest updates.
SHARE YOUR THOUGHTS! LEAVE A COMMENT NOW:
Commenting Rules:
Keep the conversation civil and on topic. If your comment does not add to the conversation or is insulting to others, it will be removed. Debate intelligently. No ALL-CAPS.