The Biggest Loser 2013 Recap: Episode 5 – Swimming Challenge
|
January 28, 2013 at 7:00 PM EDT
One of the things I must commend the contestants on The Biggest Loser 2013 about is the fact that they can get up there during the weigh-in and show the world their bodies and not even care about it. The Biggest Loser trainers (Jillian Michaels, Bob Harper and Dolvett Quince) work them out hard every week on The Biggest Loser Season 14, but there is no way I could take off my shirt and show my body like these contestants do on The Biggest Loser: Challenge America. You can watch them bare it all with me tonight during my The Biggest Loser 2013 Recap and see who was eliminated on The Biggest Loser Season 14!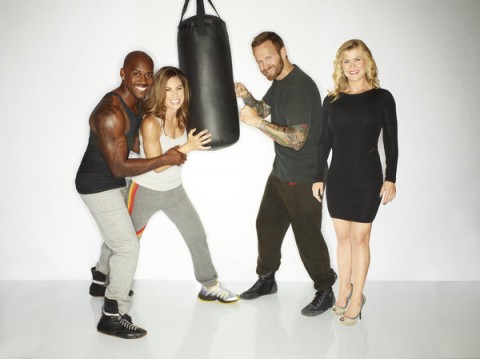 With that being said, the weigh-in last week on The Bachelor 2013 did not seem to go the way the White Team was hoping and planning. While they did only have two members left on Jillian's team, the two ladies (Pam and Danni) were working hard and Danni is standing out as the person to beat and the winner of The Biggest Loser Season 14. They won the 5K Challenge and seemed to do well with their workouts on their own, while the trainers were out visiting the child contestants. However, like two of the other three weigh-ins, the White Team lost and we had to say goodbye to Pam, which she was one of my favorite contestants this season!

The contestants will take on a swimming challenge tonight, which means more clothing coming off of these people? They will also attempt eating healthy, but on a budget, like most Americans do. Find out how it all goes down during my The Biggest Loser 2013 Recap!
The contestants come back and the Blue Team is five strong, which is crazy. Danni is nervous to work with Jillian alone this week!
The teams get back from a workout and find an empty house with no food, so they go out to meet Alison Sweeney at the grocery store down the street. They will have a $10/day budget and 15 minutes to shop for the week! Can they do it? The teams can shop together, which is easy for Danni to do. Lisa helps the Red Team, since she is used to feeding her family of six.
Is it easier or harder for Danni to shop alone? The teams finish up and go checkout. The Red Team comes in $3 under budget and they are happy. The Blue Team comes under budget a little over $1. Danni comes in at $61, which is crazy! Good for them all!
After the grocery shopping, the teams come back and they are separating their food and I think it is going to get ugly during the week. David and Gina are quietly talking because they think they will lose this week and David has no alliances.
The workouts begin and Drill Sgt. Bob Harper is in attendance and working his team extra hard! Alex is having a breakdown and Bob wants to address it! She tells Bob that she is over it. She has a break down and doesn't understand why she is having low numbers on the scale. He tells her to fight through it and this is her week.
The Red Team is going strong and Lisa is doing this for her husband, who has never seen her under 200 pounds. We then get to see a different side of Jillian Michaels, who is showing a softer side with Danni and she likes it.
The trainers then Skype with the child contestants, as Lindsay, Sunny and Biingo chat with their trainers. Lindsay joined a gymnastic club and is on a mission to make the cheerleading squad next year. Sunny wants to fit into a prom dress and Biingo is struggling with wearing the boot with his hurt foot.
Time for the contestants to learn some cheap, healthy recipes from The Biggest Loser Chef Devin Alexander. She shares one recipe…that was overrated, but it did look good.
The Blue Team works out and Gina is feeling the pressure this week, so she doesn't feel she did work out as strong this week.
Time for the challenge this week and the winning team gets ten one-year memberships to Planet Fitness! The winning team also gets a choice: two pounds at the weigh-in OR a phone call home. There are fountains in the middle, so the teams have to grab five-pound coins and put them in the fountain. They need ten coins for each player on their team. The Red and Blue Team need 40 and White Team needs 10.
Danni is doing well, but the Red Team is little bit ahead of her. Red Team has 24 coins and Danni has 6, so it is close. She needs one more and the Red Team needs one more, so it is a battle between Lisa and Danni. It comes down to the end and Danni takes the victory, which is no shock because the White Team wins them all the time. She, of course, goes with the two-pound advantage.
David and Bob go to meet with the doctor to discuss what is going on with his knee, since he is still on crutches. We look more into his family life and bring on the tears. They tell him it is okay to ask for help sometimes and not to bottle it all up.
Danni tells Jillian that she won the challenge, but she is worried because that has meant they lose the weigh-in. They head to the gym and do some fighting, which she hopes will transcend into her every day life. Last Chance Workout and the Red Team is going very good, so I am thinking the Blue Team is losing, which they agree with and Bob is not happy with them about it! What do you think?
Time for the weigh-in on The Biggest Loser Season 14. Red Team is first: Joe lost 11 pounds and broke the 300-pounds mark weighing in at 299, Francelina lost 7 pounds, Jackson lost 8 pounds and Lisa lost 5 pounds. That is a total of 31 pounds and 2.97%.
Blue Team is next: Gina lost 9 pounds (shocking), Michael lost 13 pounds, Jeff lost 13 pounds, David lost 10 pounds and Alex lost 10 pounds (finally). That is a total of 55 pounds and 3.90% and they are safe tonight, yet again!
That leaves us down to Danni for the White Team. She loses 9 pounds and is safe! That means the Red Team loses and will have to send someone home on The Biggest Loser 2013! They cannot vote for Joe, since he had the highest weight loss percentage.
The Red Team votes and Jackson voted for Lisa, Lisa voted for Jackson, Francelina voted for Lisa and Joe voted for Lisa. So, Lisa is the person who was eliminated on The Biggest Loser 2013. How would you have voted?
Join us tonight on RealityRewind.com for my The Biggest Loser 2013 Recap. Let's find out together who was eliminated on The Biggest Loser Season 14! Subscribe to our Email and RSS or like us on Facebook and follow us on Twitter for all our latest updates.
SHARE YOUR THOUGHTS! LEAVE A COMMENT NOW:
Commenting Rules:
Keep the conversation civil and on topic. If your comment does not add to the conversation or is insulting to others, it will be removed. Debate intelligently. No ALL-CAPS.