The Biggest Loser 2013 Recap: Episode 4 – Running A 5K?
|
January 21, 2013 at 8:06 PM EDT
On tonight's episode of The Biggest Loser 2013 the contestants are set to Pay It Forward and run a 5K race for charity. Explain this one to me, how does someone who can barely workout and throws up every time they workout suddenly be okay with running 3.1 miles? I am so confused and intrigued to see how it all works out on The Biggest Loser Season 14, but we shall see how Jillian Michaels, Bob Harper and Dolvett Quince get them into shape for the 5K. Find out during my The Biggest Loser 2013 Recap and see who was eliminated on The Biggest Loser Season 14 spoilers!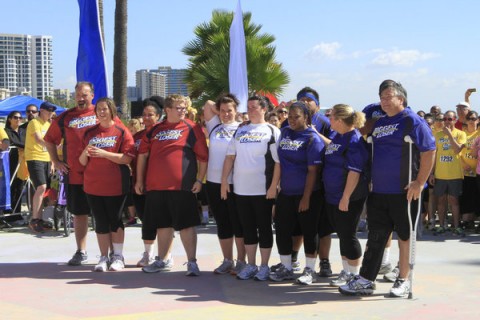 The White Team has struggled on The Biggest Loser and after starting with five people, they were down to only two remaining contestants last week on The Biggest Loser Challenge America. Pam and Danni fought hard, even though Pam is struggling with the demons in her head and her past. She doubts herself, but maybe after being the biggest loser of the week she can finally see she is able to do this all. She did her little dance in front of Jillian Michaels, which was hilarious to see and maybe we saw a new side of Pam?

Tonight the contestants take on a 5K, which seems like an impossible task to me. Some of the contestants aren't even allowed to participate in some of the challenges on The Biggest Loser 2013, so how can they do a 5K race? The trainers pay a surprise visit to the child contestants (Biingo, Lindsay and Sunny) in their hometowns and bring surprise. Let's see what they are together during my The Biggest Loser 2013 Recap and see who was voted off The Biggest Loser Season 14!
The contestants come back and are upset about Cate going home and emotions are running high. The trainers and Alison Sweeney come in and surprise them. The trainers are leaving for a week, so the contestants are on their own. Will they have a successful weigh-in?
The trainers meet with their teams and leave them with instructions on what to do. Bob leaves his Blue Team with instructions and tells them each to step up one day and be a leader that day. Jillian wants five miles a day, but will Pam be willing to do it?
The trainers then head out to surprise the kids and they are all shocked! Not only has Biingo been following it, but his Mom has lost 27 pounds…that is amazing! No junk food in the fridge, so Bob is happy with them. Great changes for a great family!
Back at the ranch, the contestants are now going out for their first workout without their trainers. The Red Team wishes they had Dolvett to explain to them what happened with their low losses and explain it to them. Danni is pushing the White Team like Jillian would and they seem to be going strong. The Blue Team is not feeling as confident without Bob and David is in the gym due to his knee and worried about going home if his team loses and Gina is missing her husband and home. For the Red Team, Jackson steps up and takes a leadership role with Dolvett being absent and no puking for him so far, which could help him in the weigh-in.
Jillian meets with Sunny to discuss how things are going and it seems Lindsay is struggling with keeping everything together with her busy schedule. Her parents are pressuring her to be a doctor, but she doesn't want that and Jillian said that is why she has the extra weight and won't lose it until she does what she wants to do.
Lindsay's Mom and sister have been working out with her, so Dolvett thinks the family is on the right track. Lindsay has dealt with some bullying growing up, so Dolvett said she needs to face those feeling head-on. She quit the cheerleading squad in middle school because of people making fun of her weight. Dolvett brings in the high school cheerleaders to cheer her on and she gets to cheer with them and she loved it!
Challenge time, as the teams meet Alison Sweeney who tells them they will be doing a 5K, which none of them can do, however with the prize of $15,000 for the winning team, that helps motivate them. The second place team gets $5,000 and $2,500 for the third place team.
They head out and Joe and Danni are ahead of the gang, but David is struggling and Alex has a blister on her foot and she feels pain. Jackson is running and feels his lungs tightening up and the doctor comes to check him out. They get the breathing under control and he is back running.
Danni finishes first with Joe behind her. Pam comes in third, so it looks like a win for them! Jillian pushing them does help! Francelina fourth, Lisa is fifth, Jackson is sixth, Gina is seventh, Jeff is eighth, Mike is ninth and Alex is tenth. White Team wins!
Sunny meets Jillian and she gets her out of the house and doing a team sport, so they will be rowing today. It is more difficult then Jillian thought and she is screwing up, but it is all in fun. They go out on the canal and Sunny loves it, so they head home and Sunny talks things over with her mother. Her mother is accepting and wants her to take a path of her own choosing!
Bob takes Biingo out to the ballpark and play with one of the minor leaguers. Bob saw a spark in his eye that he hasn't seen since he broke his foot, so maybe this will inspire him.
The trainers get back to the ranch and Dolvett loves Jackson taking the lead. Jillian is proud of her team and they seem confident having finished everything they were told to do. Bob feels bad about his team and thinks they were slacking without him.
Last Chance Workout and Jillian's team joins Bob's team for the workout. Bob is worried and kicking their butts for this workout. Jackson is working hard, but Joe is starting to slack, which surprises Dolvett.
Joe walks outside and Dolvett is not having it on his watch. He goes out to talk to him and tells him he wants consistency from him. Bob and Jillian are working their teams hard and Jillian thinks her team is looking stronger than the Blue Team. Jeff was excited to work with Bob, but he is stuck with Jillian and not liking it. He gives her attitude and they get into it and she sends him back to Bob.
It is weigh-in time and Blue Team is first: Michael lost 12 pounds, David lost 9 pounds, Alex lost 4 pounds, Gina lost 9 pounds and Jeff lost 6 pounds. That brings their totals to 40 pounds and 2.75%.
For the Red Team: Joe lost 7 pounds, Francelina lost 6 pounds, Lisa lost 9 pounds and Jackson lost 12 pounds. For the team, they lost 34 pounds and 3.16%, so they are safe this week.
The White Team is last: Danni lost 6 pounds and Pam lost 3 pounds. That means they lost 9 pounds total and 2.05%, so they lost. Pam is the lowest weight loss percentage and she is going home, since they have only two people. I loved Pam and am said she was eliminated on The Biggest Loser 2013!
Join us tonight on RealityRewind.com for my The Biggest Loser 2013 Recap. Let's find out together who was eliminated on The Biggest Loser Season 14! Subscribe to our Email and RSS or like us on Facebook and follow us on Twitter for all our latest updates.
SHARE YOUR THOUGHTS! LEAVE A COMMENT NOW:
Commenting Rules:
Keep the conversation civil and on topic. If your comment does not add to the conversation or is insulting to others, it will be removed. Debate intelligently. No ALL-CAPS.