The Biggest Loser 2013 Recap: Episode 10 – Makeover Time!
|
March 4, 2013 at 7:00 PM EDT
The Biggest Loser 2013 ended last week with The Biggest Loser host Alison Sweeney informing the final five contestants that they have made it to the Makeover Episode on The Biggest Loser Season 14! While they were all excited about getting new looks, it also meant new temptations facing the contestants as they head home to reveal their slimmer bodies and new looks. Find out who was eliminated on The Biggest Loser Season 14 during our The Biggest Loser 2013 Recap tonight!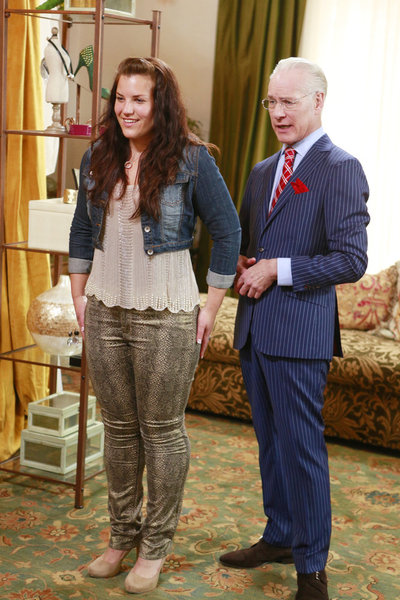 Last week on The Biggest Loser 2013, we saw the contestants take on their biggest fears, which included Jackson and Jeff spending a week away from The Biggest Loser ranch and having to tackle the challenge the real world may bring them while still trying to remain active and lose weight. While it was a challenge for them, they stepped up to it and both of them has big losses on the scale. Everyone seemed to have a good weigh-in on The Biggest Loser 2013, but it was Alex who they decided to send home.

Tonight is all about making me cry, as the contestants and the child contestants receive makeovers, but for the first time on The Biggest Loser they will reveal their new looks and smaller bodies to their families and friends at home! If you are like me, you are probably going to need a box of kleenex next to you as you watch this episode! Come watch with me tonight as they get new looks from Tim Gunn and Ken Paves during our The Biggest Loser 2013 Recap!
Here we go…the final five are in a limo and toast to their makeovers and going home. They pull up to meet Ken Paves and Tim Gunn, who will be styling them over. Not only will the final five be getting makeovers, but the child contestants will be getting makeovers as well! Ken heads to his salon while the contestants head out with Tim to get started on their style and clothes.
Lindsay is first and she gets to pick out some clothes. Jackson loves his skinny self. Joe is compared to a cake that is almost fully baked. Jeff loves wearing a button-up and not having the buttons stressed. Sunny looks the same in clothes and he chooses bad ones. Gina wanted to get to this day and is so happy. Biingo is difficult and gets to choose his own clothes, but then Tim picks clothes for him! Danni just wanted to shop at regular like her friends and she puts on some skinny pants and looks great and makes me cry!
Time for this group to head over to Ken's salon to work on their hair and makeovers. They all get done up and it is time for them to go home and show off their new looks!
We get to look at their journeys so far as they head home and meet their family and friends. They come in and Joe is all cleaned up and Gina looks beautiful and her hair is amazing. I am a crying mess! They give their speeches and it is so nice to see.
The contestants get a letter from the ranch: if they can lose 5% of their body weight in the next two weeks then they get immunity! If they fail, then no Yellow Line and anyone is up for elimination. They will also be challenging their communities to get fit while they are home.
Jackson's family has bad foods in the house, so he sits down with his mom and works out a menu for while he is home. Gina goes to a Mexican restaurant with friends and wants the chips and salsa, but tries to order healthy and gets chicken covered in cheese. Jeff goes to a bar/restaurant and nothing to order and friends encouraging to eat bad. Joe out to favorite restaurant and wants all of his old favorite dishes, but he orders healthy and if a good boy!
Gina is not settling for the wrong dish and she sends it back and gets the right dish on The Biggest Loser 2013. Jeff's friends are not overweight, so they can order bad, but he gets the salad.
Jeff's family then setup a gym for him in the basement in his room, so no sitting in his bed and eating now! Danni chats with her father about health and how they have to be more open in their conversations.
The contestants now will lead their communities in a workout they designed and to help Danni is Season 11 winner Olivia Ward. Danni's dad is their working out and she is so proud. Joe is so proud of what his brother has done at home and the weight he has lost. Jeff seems to just be leading and not working out, like the other contestants. Will the show at the weigh-in?
Now a look at the kids and I am over it. They are supposed to inspire us, but they annoy me. Anyone else? Jackson does some volunteer time and is learning time management skills. Gina is struggling in the gym and not having a trainer there to tell her what to do. Apparently they put Danni to work when she was home, which I find is silly! I think Jeff is going home because he seems to be slacking this time home or is it just me seeing this?
It is time for the contestants to pack up and head back to The Biggest Loser ranch, but all nervous to step on the scale and hope they get the 5% loss.
Time for the weigh-in: Danni needs to lose 10 pounds for the 5% and is down 10 pounds, so she is safe. Jackson needs to lose 13 pounds and he is down 15 pounds, so he is safe also. Joe needs to lose 14 pounds and he is down 17 pounds, so he is safe also. Jeff needs to lose 15 pounds and he is down 19 pounds, so he is safe also. It all comes down to Gina to see if they all get immunity! Gina needs to lose 9 pounds and she is down 10 pounds, so she is safe also!
That means everyone is safe tonight on The Biggest Loser 2013, so no one goes home tonight! Good for them!!!
Next week is the final weigh-in and this is how it works: The top two weight loss percentages for the week automatically make the finale. There will be a Red Line and the lowest weight loss percentage is going home automatically! Then there will be a Yellow Line and the 3rd and 4th place will have a vote to see who makes the finale, but the vote will be by America and the results will be revealed on the live finale!
Join us tonight on RealityRewind.com for my The Biggest Loser 2013 Recap. Let's find out together who was eliminated on The Biggest Loser Season 14! Subscribe to our Email and RSS or like us on Facebook and follow us on Twitter for all our latest updates.
SHARE YOUR THOUGHTS! LEAVE A COMMENT NOW:
Commenting Rules:
Keep the conversation civil and on topic. If your comment does not add to the conversation or is insulting to others, it will be removed. Debate intelligently. No ALL-CAPS.