The Biggest Loser 2013 Predictions: Who Goes Home Tonight?
|
February 11, 2013 at 12:35 PM EDT
The Biggest Loser 2013 contestants will no longer have their teammates to depend on tonight, as the teams are dismantled and the contestants compete as individuals for the remainder of The Biggest Loser Season 14. So, who is eliminated on The Biggest Loser 2013 tonight? Check out our The Biggest Loser 2013 predictions!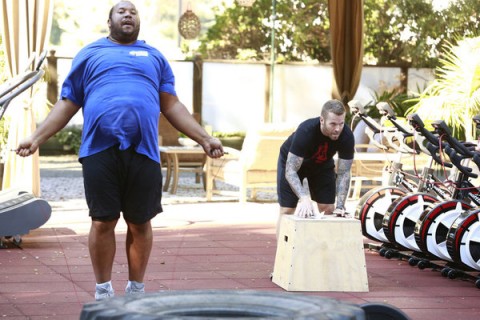 It is hard to say who will be going home on The Biggest Loser: Challenge America, as some people's weight changes so differently and it makes no sense to me!

Jackson seems to be working his butt off, but then loses two pounds and he is a big guy. Jeff is the same case, but then Danni can have a big loss and follow it up with another big loss (Danni for the win)!
Tonight, I am thinking it is going to be Jackson going home. He has struggled almost every week with getting big losses, but his team has helped him and been strong and only lost two weigh-ins. He won't have his team tonight, so I think Jackson will be eliminated on The Biggest Loser 2013.
Who do you think will go home?
Join us tonight on RealityRewind.com for our The Biggest Loser 2013 Recap. Let's find out together who was eliminated on The Biggest Loser Season 14! Subscribe to our Email and RSS or like us on Facebook and follow us on Twitter for all our latest updates.
SHARE YOUR THOUGHTS! LEAVE A COMMENT NOW:
Commenting Rules:
Keep the conversation civil and on topic. If your comment does not add to the conversation or is insulting to others, it will be removed. Debate intelligently. No ALL-CAPS.