The Amazing Race 2012 Season 21 Preview: Episode 9 – Fishy Kiss (VIDEO)
|
November 25, 2012 at 1:00 PM EDT
We are down to only five teams on The Amazing Race 2012 Season 21 and it looks like the teams are headed to Amsterdam tonight, even though Ryan and Lexi both might lead their teams to France based on the flag they were given. It is an easy thing to do because the flags are very similar, but they gotta figure that out on The Amazing Race Season 21. It will be a tough leg of the race tonight on The Amazing Race 21, so come back for my The Amazing Race 21 live recap and find out who was eliminated on The Amazing Race 2012.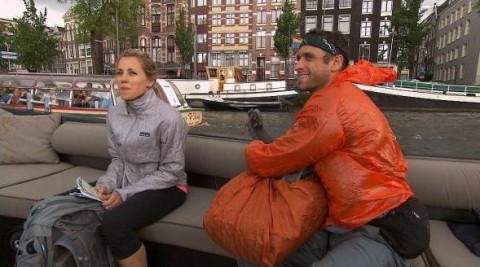 Tonight it looks like the teams will be having the challenge of a Double U-Turn, which could change the game completely for the five remaining teams. It also said they will encounter one of the show's most infamous challenges. Could it be the clues in the haystacks? This is a huge week because we are getting closer and closer to The Amazing Race 21 finale, so these teams need to put it all on the line.

From the looks of it, the teams are doing just that. It looks like Jaymes and James are baring it all and selling their bodies to make some money on the streets of Amsterdam. Then we see Natalie and Nadiya riding The Floating Dutchman in hopes of earning the Fast Forward and making their way to the finish line faster than the other teams. The twins have been a pain in my backside for the past few weeks and I used to like them, but now I find them annoying. Anyone else feel that way?
Also on The Amazing Race 2012, Trey and Lexi have been winning the past couple weeks and a team to be reckoned with, which they haven't been up to this point. Do you think they have found their groove and could win it all this season? Check out the preview below and come back tonight for my The Amazing Race 21 live recap:
Join us tonight on RealityRewind.com for my The Amazing Race 2012 Season 21 LIVE recap. Let's see who was eliminated from The Amazing Race Season 21 together! Subscribe to our Email and RSS or like us on Facebook and follow us on Twitter for all our latest updates.
SHARE YOUR THOUGHTS! LEAVE A COMMENT NOW:
Commenting Rules:
Keep the conversation civil and on topic. If your comment does not add to the conversation or is insulting to others, it will be removed. Debate intelligently. No ALL-CAPS.