The Amazing Race 2012 Season 21 Preview: Episode 10 – Not A Well-Rounded Athlete (VIDEO)
|
December 2, 2012 at 3:02 PM EDT
The Final Four are taking on one of the last legs of The Amazing Race 2012 Season 21, as we are one step away from seeing the final teams compete for the $1 million prize on The Amazing Race 21 Finale! It is down to Trey and Lexi, Natalie and Nadiya, Jaymes and James and Josh and Brent on The Amazing Race Season 21. Josh and Brent have spent most of the race in the bottom spot but managed to survive somehow. Can they do it one more time? Come back tonight for my The Amazing Race 21 Live Recap and find out who was eliminated on The Amazing Race 21.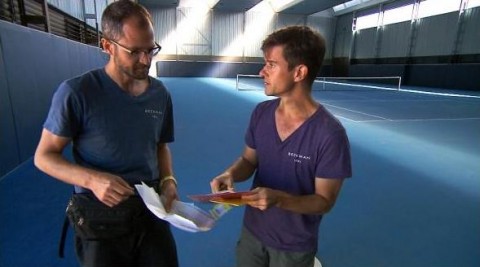 Abbie and Ryan won the first leg of the race this season and had a chance of winning $2 million this season if they also won the final leg of the race. That meant most teams were gunning for them on The Amazing Race 21. They had some bad luck with flights the past few legs and it led to them being way behind the other teams. With a Double U-Turn in the game last week, Jaymes and James reluctantly teamed with the twins and Texans and U-Turned Abbie and Ryan. That put them even more behind and led to them finishing behind Josh and Brent and being sent home and now we are down to the Final Four.

The teams head to Spain tonight for this leg of the race and by the looks of it, they will have to show off their tennis skills. Josh and Brent are struggling with any of the athletic events, but somehow have managed to make it to the Final Four on The Amazing Race 2012. You can check out The Amazing Race 21 preview below, but it looks like things are getting difficult with only two more episodes left. Watch the preview and then come back tonight for my The Amazing Race 21 live recap.
Join us tonight on RealityRewind.com for my The Amazing Race 2012 Season 21 LIVE recap. Let's see who was eliminated from The Amazing Race Season 21 together! Subscribe to our Email and RSS or like us on Facebook and follow us on Twitter for all our latest updates.
SHARE YOUR THOUGHTS! LEAVE A COMMENT NOW:
Commenting Rules:
Keep the conversation civil and on topic. If your comment does not add to the conversation or is insulting to others, it will be removed. Debate intelligently. No ALL-CAPS.