Survivor Philippines 2012 Predictions: Finale – Who Wins Survivor 25 Tonight? (VIDEO)
|
December 16, 2012 at 1:00 PM EDT
We have come to the end of Survivor Philippines 2012 and only two more hours of the show keep us from finding out who won Survivor 2012 Philippines! I am super excited to see which of the final four castaways (Lisa Whelchel, Mike Skupin, Malcolm and Denise) will take home the $1 million prize tonight on Survivor Season 25. With alliances going all over the place this season, you never know what will happen to give us a final three and you never know how the jury will vote. Check out my Survivor Philippines 2012 predictions and then come back tonight for my Survivor 25 live recap!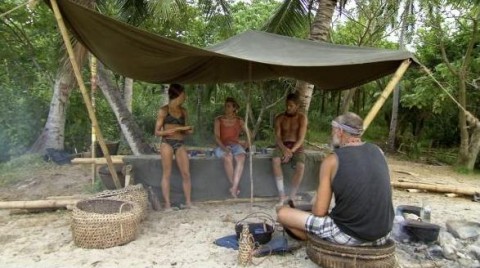 The final four castaways agreed to an alliance that would put them all in the final four. Despite the attempts to try to lure them away and a plan by Lisa and Mike to vote off Malcolm, which failed when he won immunity, the alliance stayed together and would up in the final four. Now to determine who makes the final three on Survivor 25 and then to see who the jury gives the win to.

I am torn on this one because I am rooting for people for different reasons. To sum up Mike, he is a doofus. He burned himself in the fire his first time on Survivor and this whole season has been him cutting his foot or finger or scraping his head or having the goggles bursting under water and scraping his face all up. He doesn't think before he does things, but he has also managed to get to the final four and that means something and I would like to see him win one as a veteran. Malcolm has been strong all season and is a physical threat, so he deserves it for that. Denise is a beast and literally probably one of the most deserving to win. Lisa is a mess, but somehow managed to work herself into the final four, so props to her on that.
So, who wins Survivor Philippines 2012 tonight? As much as it pains me to say this, but I think it is going to be Lisa Whelchel for the win. It seems like the whole season has been built up for her to win. I think Denise deserves it the most, but I think she has ticked off a few jury members along the way (Abi and her gang). As far as Malcolm goes, rumors have been flying around that he will be on the next Survivor, which is a return to Fans and Favorites. Why would he return if he won the million dollars? Mike is a veteran and none of the players ever want them to win, so count him out for that reason.
So, because of all of that I am picking Lisa Whelchel to win Survivor Season 25. Do you agree with me? Who do you think is the winner? Check out this preview for tonight here:
Join us tonight on RealityRewind.com for my Survivor Philippines 2012 LIVE recap. Let's see who won Survivor Season 25 together! Subscribe to our Email and RSS or like us on Facebook and follow us on Twitter for all our latest updates.
SHARE YOUR THOUGHTS! LEAVE A COMMENT NOW:
Commenting Rules:
Keep the conversation civil and on topic. If your comment does not add to the conversation or is insulting to others, it will be removed. Debate intelligently. No ALL-CAPS.