Survivor 24 One World Voted Off Monica Culpepper during Week 5
|
March 15, 2012 at 4:05 PM EDT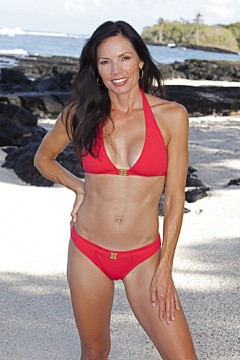 Survivor 24 One World voted off Monica Culpepper during Week 5. She was one of the game's strongest performers, scoring the only basket in the last challenge competition she participated in while on Survivor: One World. But Culpepper proved too strong for her teammates.
She was voted off on the show last night, blindsided by an alliance between two of the show's most unsavory competitors, racist manipulator Colton Cumbie and opinionated diva Alicia Rosa. Culpepper thought her team was committed to taking out Greg "Tarzan" Smith, only to be blinsided by a vote which took her out.
"I'm extremely disappointed," she said in comments filmed right after the eviction. "I came here to win…The dumbest thing I could have done was trust Colton."
Culpepper, was recruited for the show after producers initially sought to get her husband in the cast.
"I knew they kinda liked the NFL hook, and I think the misconception is that (I'm) going to be this kind of spoiled lady on the show," said Culpepper in an interview. "I said, 'Mark, frankly, I feel like I am today's mother..(who) need to identify with the kids, and be able to exercise with the kids and have their pulse on what youth culture is these days."
SHARE YOUR THOUGHTS! LEAVE A COMMENT NOW:
Commenting Rules:
Keep the conversation civil and on topic. If your comment does not add to the conversation or is insulting to others, it will be removed. Debate intelligently. No ALL-CAPS.