Survivor 2014 Spoilers: Meet The Season 28 Cast (PHOTOS)
|
February 19, 2014 at 12:39 PM EDT
It looks like Survivor host Jeff Probst and producers of Survivor 2014 are trying to switch things up and make it a contest of beauty versus brains versus brawn with the new teams on Survivor Season 28. We have 18 new faces competing for that $1 million prize, but can any of the tribes on Survivor Cagayan 2014 outrank the others with their brains, brawn or beauty? Check out the Survivor 2014 cast below in our Survivor 2014 spoilers!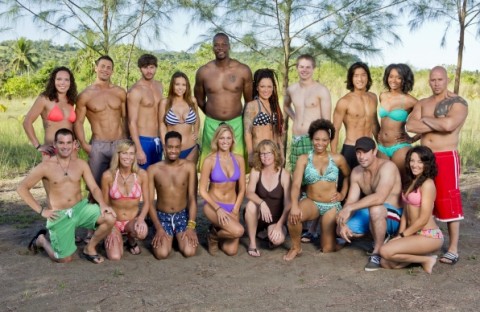 Like I stated, this season will consist of three tribes competing against each other, unlike the normal two tribes we see. The tribes are Beauty, Brawn and Brains. I am intrigued to see if Jeff Probst and the producers will tell the castaways on Survivor Cagayan 2014 how they were divided up or not, since the tribes are given different names then The Brains Tribe and so on!

Here is a breakdown of the tribes and their professions:
The Brains Tribe
Garrett Adelstein, 27, Pro Poker Player
Latasha "Tasha" Fox, 37, Accountant
Spencer Bledsoe, 21, Student
Kassandra "Kass" McQuillen, 41, Attorney
David Samson, 45, President – Miami Marlins
J'Tia Taylor, 31, Nuclear Engineer
The Beauty Tribe
Jefra Bland, 22, Miss Kentucky Teen USA
Brice Johnston, 27, Social Worker
Alexis Maxwell, 21, Student
LJ McKansas, 34, Horse Trainer
Morgan McLeod, 21, Ex-NFL Cheerleader
Jeremiah Wood, 34, Male Model
The Brawn Tribe
Trish Hegarty, 48, Pilates Instructor
Yung "Woo" Hwang, 29 Martial Arts Instructor
Sarah Lacina, 29, Police Officer
Lindsey Ogle, 29, Hairstylist
Cliff Robinson, 46, Former NBA All-Star
Tony Vlachos, 39, Police Officer
Now it is time to check out some photos of the Survivor 2014 cast here:
Click on image for full view
Survivor Cagayan 2014 premieres next Wednesday at 8/7c on CBS .
Join us on Reality Rewind for all your Survivor 2014 spoilers, recaps, previews, predictions, photos, videos, news and much more! Subscribe to our Email and RSS or like us on Facebook and follow us on Twitter for all our latest updates.
SHARE YOUR THOUGHTS! LEAVE A COMMENT NOW:
Commenting Rules:
Keep the conversation civil and on topic. If your comment does not add to the conversation or is insulting to others, it will be removed. Debate intelligently. No ALL-CAPS.