Sarah Silverman Says Women On The Bachelor Are More Offensive Than Her
|
April 27, 2012 at 12:22 PM EDT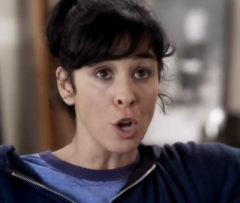 Sarah Silverman says women on The Bachelor are more offensive than her. The comedienne discussed the show on the premiere of Lifetime's The Conversation With Amanda de Cadenet on Thursday, saying it's bizarre that people consider her "offensive," but not the women who degrade themselves to "win" a man on reality TV.
Silverman told De Cadenet, "I'll tell you what's offensive: these shows… that are on ABC during primetime. Twenty-five women in JC Penney prom dresses, fully grown, going, 'He took us to a castle!' No he didn't. Producers procured a castle. And there's 25 of you — that's how special you aren't," she added bluntly.Silverman offered, "I think, 'Wow, some young girl is watching this, and there should be a warning saying, 'This is not acceptable behavior.'"
Do you agree with Silverman's thoughts on The Bachelor?
SHARE YOUR THOUGHTS! LEAVE A COMMENT NOW:
Commenting Rules:
Keep the conversation civil and on topic. If your comment does not add to the conversation or is insulting to others, it will be removed. Debate intelligently. No ALL-CAPS.