Subscribe to Reality Rewind:
February 3, 2013
Sandy Hook Elementary and Jennifer Hudson Sing At Super Bowl (VIDEO)
Before the Super Bowl 2013 got started, Jennifer Hudson and the Sandy Hook Elementary Chorus took center stage and sang "America the Beautiful." Jennifer Hudson looked amazing and was working that outfit she was wearing. The kids of the Sandy Hook Elementary Chorus were cute and got things started for the performance. Check out Sandy Hook Elementary Chorus and Jennifer Hudson sing at Super Bowl 2013 below.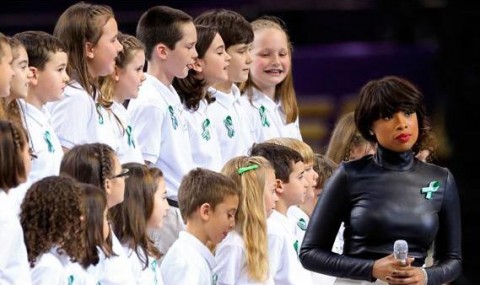 It was a sad moment we all saw on the news: the tragic shooting at Sandy Hook Elementary. Now we got to see a shining moment for the kids from that school.
Alicia Keys also sang the National Anthem, which you can see here!
We also got to see Jennifer Hudson come out and nail her song, that she happened to sing live. We all know those American Idol contestants can sing live though! Check it out here:
For all your celebrity news/gossip, join us on RealityRewind.com. Subscribe to our Email and RSS or like us on Facebook or follow us on Twitter for all our latest updates.